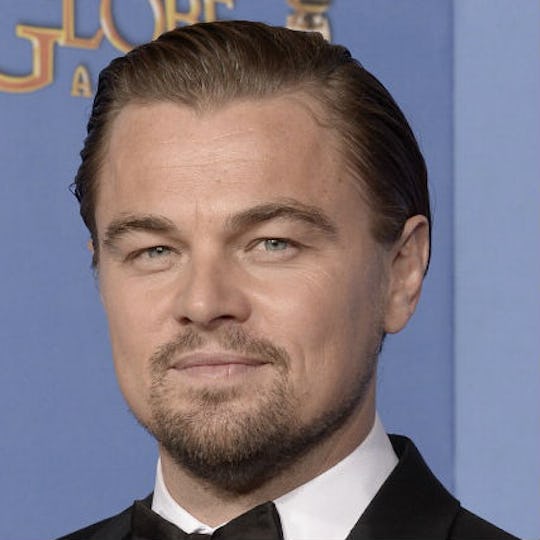 Leonardo DiCaprio Wins Best Actor Golden Globe, & Of Course, Gets Standing Ovation
It looks like '90s girls around the world will be kissing their creased posters, because their heartthrob Leonardo DiCaprio won the Golden Globe for Best Actor In A Major Motion Picture - Drama for his work on The Revenant, beating out a sea of solid contenders, including Bryan Cranston, Michael Fassbender, Will Smith, and Golden Globe frontrunner Eddie Redmayne.
As DiCaprio took to the stage, he was met with a standing ovation from the crowd. When accepting the award, Dicaprio thanked all of the people award winners typically thank, from the fellow nominees to his director to his family. But he ended his speech with a special acknowledgement of the indigenous communities around the world.
I wanna share the award with all the first nations' people represented in this film, and all the indigenous communities around the world. It is time that we recognize your history and that we protect your indigenous lands from corporate interest and people that are out there to exploit them. It is time that we heard your voice and protected this planet for future generations.
Some would call DiCaprio's 2016 Golden Globe victory a true underdog tale, especially given DiCaprio's history with award shows. It's well-known that the actor has never won an Oscar, despite being nominated four times, and his Golden Globe success (or lack of ) is just as surprising to fans and film critics alike. DiCaprio received his first Golden Globe nomination in 1994 for Best Supporting Actor — Motion Picture and received two Best Actor — Motion Picture Drama nominations after that before winning the award for The Aviator in 2005. Dicaprio received five more nominations after that before he took home Best Actor – Motion Picture Musical or Comedy in 2014 for his portrayal of coked-out power player Jordan Belfort in Wolf of Wall Street.
But what makes the win especially triumphant is that DiCaprio was able to beat out Redmayne, who, for all intents and purposes, had the odds stacked in his favor. Redmayne was nominated for his portrayal of transgender pioneer Lili Elbe in The Danish Girl, a performance the actor received much praise for, despite the film's poor reviews. To add to his advantage, Redmayne took home the award last year for his work in The Theory of Everything. Beating an incumbent winner is no easy feat, especially one who delivered a powerful performance in an equally important film, but DiCaprio's portrayal of a vengeful frontiersman on the edge of survival succeeded in doing so.
As for whether or not DiCaprio will have similar success at the Oscars, you'll just have to wait till Feb. 28 to find out.
Images: Kevin Winter/Getty Images