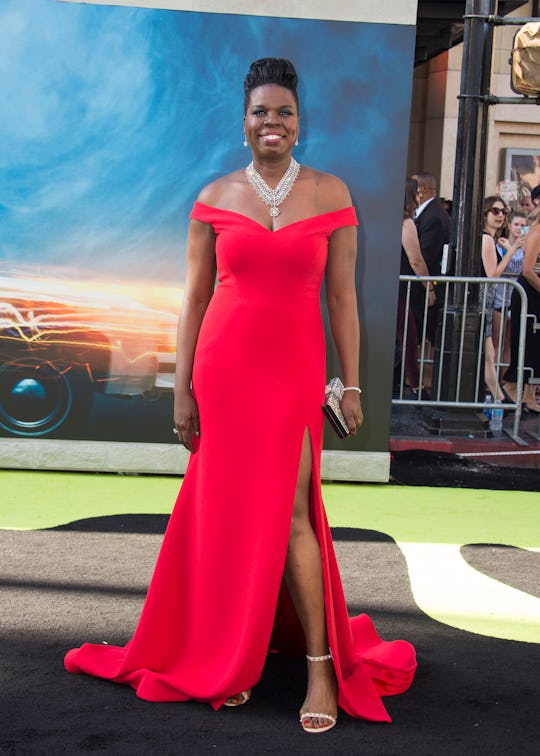 VALERIE MACON/AFP/Getty Images
Leslie Jones' Best Olympics Tweets Show Exactly Why She Got Invited To Rio
Leslie Jones has certainly had negative experiences on Twitter as of late. But the comedian's experience on the Twitterverse definitely improved this past weekend when her funny tweets covering the 2016 Summer Olympics quite literally led her to the Olympics in Rio. Jones' commentary on Twitter first caught the attention of executive producer of NBC Olympics, Jim Bell, after a follower recommended her to him. Bell then invited Jones (by tweet, of course) to head down to Rio and join the rest of the crew. (Talk about interesting places to network). Jones' timeline, full of hilarious Olympics coverage, certainly deserved the recognition it got – her live tweets paired with her recorded clips of the Games were undoubtedly entertaining, to say the least. In fact, Leslie Jones' best Olympic tweets pretty much speak for themselves — so is it too much to ask now that NBC makes her its official Olympics commentator? (Sorry, Bob Costa.)
Last month, Jones was attacked on Twitter by bullying trolls who bombarded her Twitter account with disgusting and overtly racist comments in light of her latest role in the female-led remake for Ghostbusters, which hit theaters last month. Jones was so disturbed by the overt racist attacks that she announced she was leaving Twitter altogether. "I feel like I'm in a personal hell," Jones wrote back in July. "I didn't do anything to deserve this. It's just too much. It shouldn't be like this. So hurt right now."
But thankfully Jones is back on Twitter, and not only is she back – she's reminding her fans why they missed her during her hiatus in the first place.
Jones' road to Rio seemingly began when Late Night with Seth Meyers producer recommended Bell pay close attention to Jones' Olympic recaps on Twitter:
... The rest, they say, is history. Bell gave the official invite by casually asking Jones, "Want to come?" The question may have been posed to Jones, but her fans were also quick to respond that they would absolutely love to see Jones in Rio – no doubt about it:
And here are some of Jones' tweets that started it all:
Pro tip: A cool filter may be the best way to make an "entrance." In Jones' case, it was the beginning of her hilarious Olympics tweets:
First, Jones built the hype in her all-out American flag gear.
Then she provided Twitter with the inner-thoughts of the Olympic athletes:
Of course, Jones then tweeted thoughts that many viewers at home were likely having themselves:
"Warrior!" is right, Leslie:
I know quite a few people, including myself, that ask these same questions watching the Games. How do they do that.... how Sway?
What is he listening to?
That's how you do it, Serena.
Jones has since posted a video confirming that she is going to Rio. (Thank god.) The Leslie-Jones-Olympics commentary will continue. Fans everywhere, rejoice.