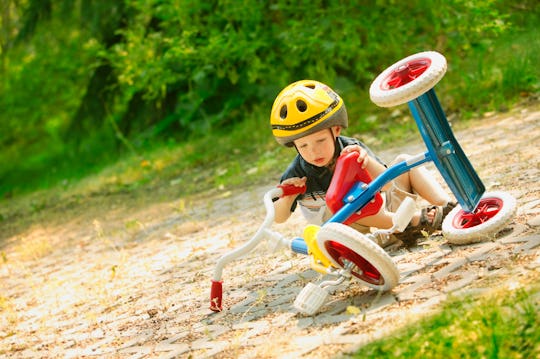 Design Pics/Leah Warkentin/Design Pics/Getty Images
It's Hard, But Your Kids *Seriously* Benefit When You Let Them Make Mistakes
Letting my kids make big mistakes is not something I'm particularly great at. I'm prone to give them a safety net and be the mom who can help pick up the pieces swiftly. But the older they get, the more I see the benefits of letting kids make mistakes.
When they were little, seeing them try to climb up the tallest ladder on the playground only to have them fall flat on their back when they realized they weren't quite big enough or strong enough to do it yet just broke my heart. However, I now see the benefit of letting them learn lessons the hard way — by making their own mistakes. When my second grader forgets to take a homework assignment the day it's due, I don't run it up to the school for him. He can take it the next day and lose a few points. Chances are he will only do it a time or two before he learns that his hard work would be rewarded with a better grade if he remembered to bring his homework back on time.
"The only failure in life is not to learn from mistakes. Parents who love their children unconditionally mean they love them while they make mistakes, too. The goal is to help your son or daughter course-correct if they make a mistake and learn to get back up again," Maureen Healy, child psychologist, author of The Emotionally Healthy Child, and parenting coach at Growinghappykids.com tells Romper. "We know as adults that mistakes happen, but it's getting back up that makes all the difference in the world."
As it turns out, the benefits of letting kids make mistakes can help them develop skills that are necessary in order to become successful adults. By supporting your kids when they make a misstep, you can reinforce these benefits and watch them learn valuable lessons from their mistakes.