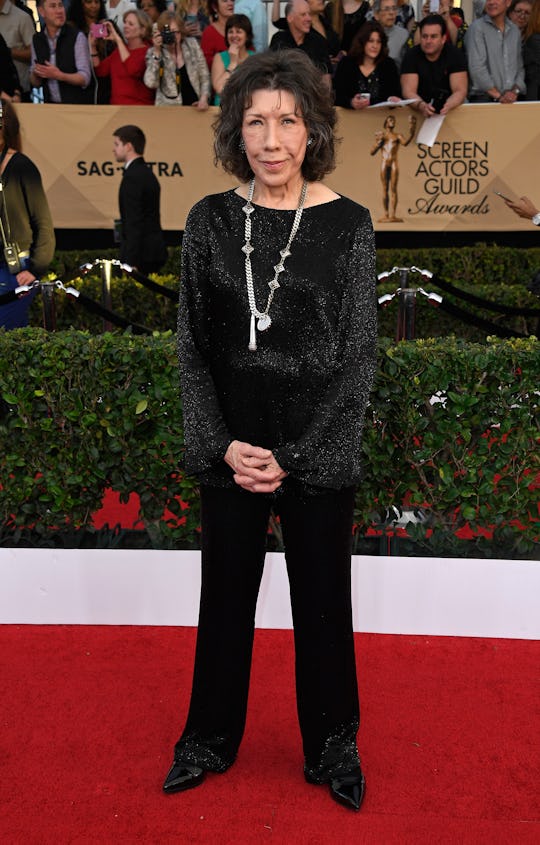 Frazer Harrison/Getty Images Entertainment/Getty Images
Lily Tomlin's SAG Awards Speech Was Golden
Every year the Screen Actor's Guild Awards pays homage to one particular actor who has spent a great portion of their life dedicated to the arts and honors all of their outstanding achievements in the entertainment industry. This year, that honor went to none other than Lily Tomlin and when it was first announced, I couldn't have been more thrilled. So after her 9 to 5 costar Dolly Parton introduced her, it was time for the Hollywood icon to say a few words. And suffice to say, Lily Tomlin's Life Achievement Award speech was just as amazing as you'd expect it to be.
Granted, this is an actress that's well known for being downright hilarious, so the fact that she can deliver a powerful speech that's equally full of wit and wisdom should be none too surprising. But when she wasn't charmingly examining the trophy itself or listing off words of wisdom to the younger acting generations, she was taking a few well placed jabs at President Donald Trump — a prominent theme throughout the majority of the ceremony.
She told her fellow actors to make sure that when the time comes for them to get honored for their achievements, try to make it so that the people who are talking about your list of accomplishments are remaining relatively close to the truth. Because if that's not the case, they could come to be known as "alternative facts" or even worse "fake news."
Tomlin then proceeded to make a special point of thanking her longtime partner, Jane Wagner, for her undying support throughout all of these years. The couple became officially married in December 2013, but have been together for over 40 years. And then, once again, she reverted back to her sarcastic and lovable demeanor, revealing that she's so glad this speech is almost over. But for the rest of the world, that wasn't the case at all.
I could literally listen to Lily Tomlin speak for hours and hours and never tire of it. If it was up to me, she could've used the rest of the award time to talk about everything from politics to her favorite movie. But alas, it was not meant to be and it was time to move on to other things. However, I think her speech more than proved just how much she deserved to obtain this award. And if you ask me, it was a long time coming.