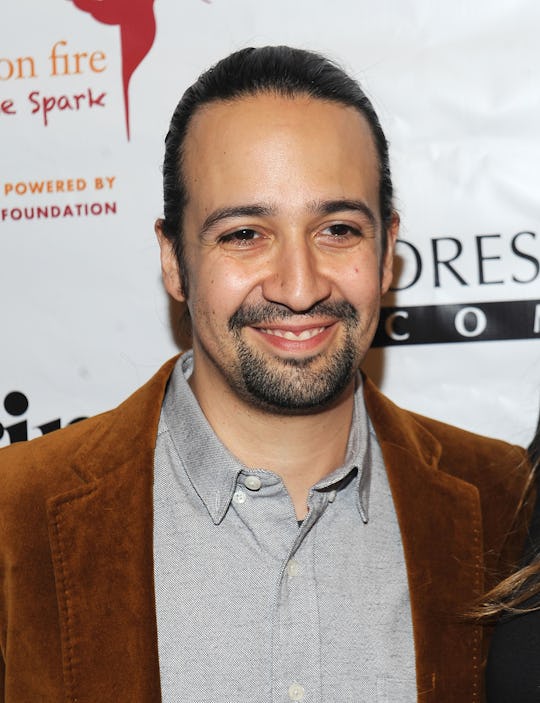 Brad Barket/Getty Images Entertainment/Getty Images
Lin-Manuel Miranda Winning A Tony Award Would Be Hugely Important For This One Reason
Lin-Manuel Miranda has changed the face of pop culture, this is something we know for sure. The creator and star of the smash Broadway phenomenon Hamilton, the groundbreaking hip-hop infused musical based on the life and times of founding father Alexander Hamilton, has done the unthinkable: He has turned a Broadway musical about American history into the hippest, coolest ticket on the planet. On Tuesday, it was announced that Hamilton had been nominated for a record-breaking 16 Tony Awards — and that's big news, since Miranda winning a Tony award could be hugely important.
When Miranda created Hamilton — a musical retelling that follows Alexander Hamilton from his childhood as an orphan in the West Indies to his eventual death fighting in a duel with Aaron Burr — it was with one concept in mind. According to The Atlantic, Hamilton wanted to change the way people looked at history and make it more accessible. "This is a story about America then, told by America now," Miranda told The Atlantic's Edward Delman, "and we want to eliminate any distance between a contemporary audience and this story."
What Miranda created with Hamilton was a potent musical blend of hip hop and R&B music, featuring a racially diverse cast and riveting story. As Michelle Obama said about Hamilton in March, "[It's] simply ... the best piece of art in any form that I have ever seen in my life."
Miranda has been decidedly coy about his nominations; In an interview with The Wall Street Journal podcast Speakeasy on Tuesday morning, after learning of the Tony nominations, Miranda said,
These are always bittersweet. We're being asked to be put in a competition we never asked to be in. All we wanted to do was get our show on and make our show the best possible thing it could be.
If Miranda wins a Tony award for his performance in Hamilton, he will only be one letter away from getting a coveted PEGOT (Pullitzer Prize, Emmy, Grammy, Oscar, and Tony awards). Miranda won a Pullitzer Prize for drama in April, he won an Emmy for the song "Bigger" in 2014 from the tony awards telecast, and won a Grammy in 2016 for the best musical theater album. With a Tony win almost certainly around the corner, Miranda now just needs to nab himself an Oscar and he'll have the full set at the tender age of 36.
While this would be huge news for just about anyone on the planet, it is especially momentous for Puerto Rican-born Miranda. He uses his platform in Hamilton to cover racism, immigration issues and politics with wit and intelligence. To be recognized and embraced so emphatically as a person of color is noteworthy, to say the least.
While Hamilton continues to dazzle audiences and build an almost deafening buzz (a movie based on the play has been discussed, though Miranda insists it is "not in the near future"), Miranda is trying to take a moment to enjoy his moment. In a comment to Reuters Canada this week, he said,
It's almost impossible to process. I became aware that if my life were a movie, this would be a montage, playing on fast-forward. And now I'm just trying to slow down the montage.
May he slow the montage enough to enjoy the ride.