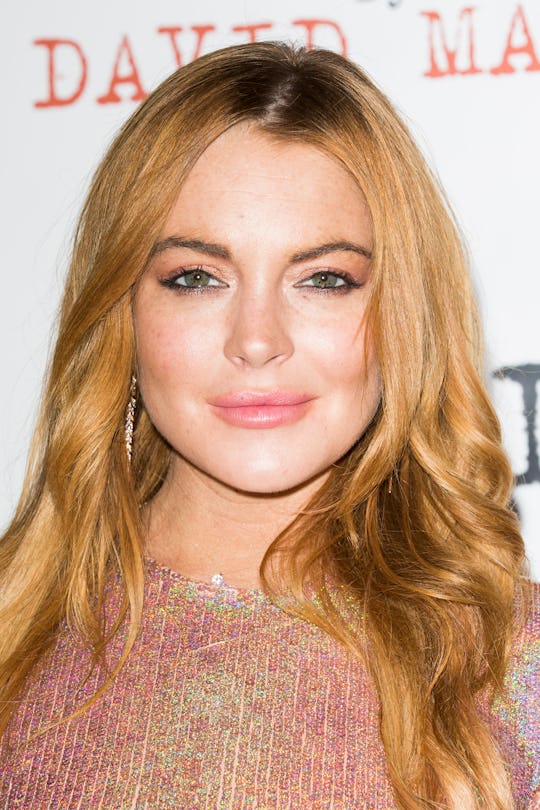 Tristan Fewings/Getty Images Entertainment/Getty Images
Lindsay Lohan Is Dying To Make 'Mean Girls 2' Happen, & We Totally Support Her
I need a Mean Girls 2 movie to happen. In fact, I would go so far as to say that we, as a society, need Mean Girls 2 to happen. We need a refresher course in how to talk to each other as women, and who better to remind us than The Plastics and their nemesis Janice? I'm ready, you're ready; and most importantly, Lindsay Lohan is ready. During an interview on The Wendy Williams Show earlier this week, Lohan admitted she's dying to make Mean Girls 2 happen. And honestly, girl, whatever you need we are here for you.
The oft-controversial Lohan showed up for a nice, light interview with Williams, who skirted around some of Lohan's more compelling issues that have come up in the news recently. Like her ill-conceived defense of disgraced former Miramax head Harvey Weinstein, and her super weird pretend Euro-accent that didn't really sound like it was from any country in the real world. No, this time around Lohan got to talk about how close her family is these days, her time spent in Dubai... and best of all, her dreams of making Mean Girls 2 happen. Lohan told Williams:
I've harassed so many times it's becoming a bit stalker-ish. I go to SNL when I'm in town. I go to Lorne. I run to Steve Higgins. I think they're really focused on the Broadway show right now.
Now to be fair, a Mean Girls 2 has already happened... but I'm thinking she means a version with the original cast, n'est pas?
Also to be fair, Mean Girls: The Musical is happening, and it sounds pretty fantastic. National Treasure Tina Fey, who wrote the screenplay for the original Mean Girls movie, came back to write the book for the play. The play will enjoy a short run at the National Theater in Washington, D.C. before heading to Broadway in April of this year. Which is totally great, of course.
Except it's not a true Mean Girls 2 without Lohan as Cady Heron and Rachel McAdams as Regina George. Lohan needs to make this happen, and she seems up for the challenge.
Beyond her "stalker-ish" obsession with making Mean Girls 2 a thing, Lohan also mentioned that she would be willing to discuss a possible Batgirl stand-alone movie. When Williams asked Lohan, who was apparently the most talked about celebrity to be discussed on Williams' "Hot Topic" portion of the show, what the biggest misconception about her, Lohan explained she just wants to move forward with plans for the future:
I'd rather stay focused on what I want to do next. Whenever people bring up past things I experiences and gone through, like jail, working at the morgue, which is actually really traumatizing stuff. But then it distracts from actually, maybe meeting with people to do Batgirl, doing a 'Mean Girls 2,' it really distracts people and they only think about the negative.
And I guess what Lindsay Lohan wants to do next is make everyone's dreams come true. Because I didn't even know how badly I wanted a Batgirl movie until she brought it up.
So here's what needs to happen next; Mean Girls fans need to get behind Lohan. Because the girl spends a whole lot of time in Dubai and I'm worried she's going to forget about making this movie if we don't consistently remind her.
If fans don't stay on top of this, Lohan might slip back into some of her weirder behavior patterns, and that's not going to help matters. Like that accent, for one.
Let's take it in turns to keep her on point. And make Mean Girls 2 an actual thing.
Check out Romper's new video series, Romper's Doula Diaries:
Watch full episodes of Romper's Doula Diaries on Facebook Watch.