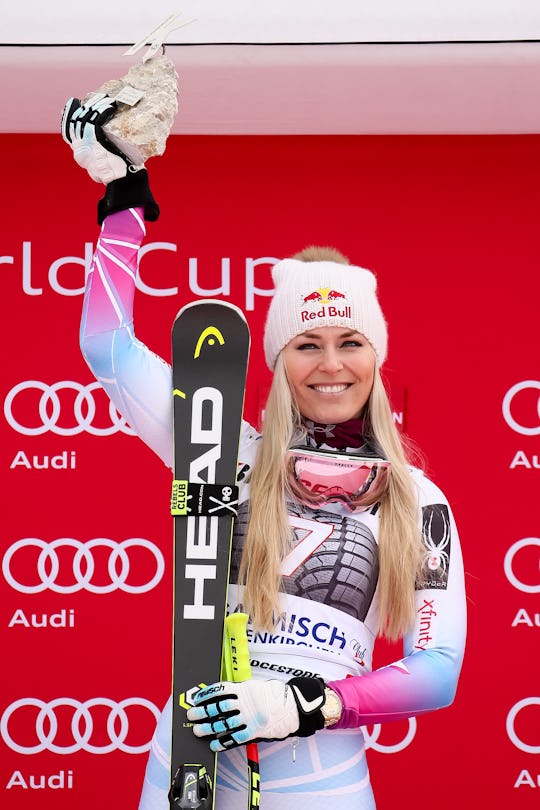 Millo Moravski/Agence Zoom/Getty Images Sport/Getty Images
Lindsey Vonn's Instagram Proves The Olympic Skier Is Unstoppable
Lindsey Vonn has had her share of bumps along the road to becoming one of the best skiers in the world. She has suffered injuries, had to say goodbye to people she loved, lived through a painful divorce, and is currently struggling against a sea of online trolls criticizing her for her views about President Donald Trump as she competes at the PyeongChang Winter Olympics. But if there's one thing we can learn from Lindsey Vonn's Instagram it's this: she is a survivor and she is unstoppable. So I wouldn't expect her to tremble at the feet of a social media troll, or anything else for that matter, any time soon.
Vonn has been a mainstay at the Winter Olympics since her breakout year in 2002, when she was a 17-year-old skier at the Salt Lake City, Utah Winter Games who managed to pull off a top 10 finish in her very first race. Since then, Vonn (who competed back then as Lindsey Kildow before her marriage to former Olympian alpine ski racer Thomas Vonn in 2007) has gone on to win two Olympic medals, one bronze and one gold, at the 2010 Olympics. She's also won eight consecutive World Cup season titles in downhill skiing, and four overall World Cup championships.
In other words, when it comes to skiing there are few people in the world who can claim to be better than Lindsey Vonn. And she's got the hard work to prove it.
She's Got Stamina
In the weeks before the Winter Games, Vonn's Instagram was chock full of painful looking workout routines coupled with inspiring messages, like the one she shared in the caption of this photo:
Mirror mirror on the wall, I'll always get up after I fall. And whether I run, walk or have to crawl, I'll set my goals and achieve them all💪🏻 #wontstop #pyeongchang
"All work and no play makes this girl ready for the Olympics," she captioned this photo.
"I've put in the work. Excited for the last races this weekend before heading to the #Olympics! Let's go!" she captioned this above photo.
She's All About Family
Vonn comes from a close-knit family, all of whom are super supportive of her career. She grew up in Vail, Colorado with her four siblings, Karin, Reed, Dylan, and Laura, and her parents Alan Kildow and Linda Lund. While she remains close to both of her parents after their divorce in 2003 (who are at the PyeongChang Winter Olympics cheering her on), there is one family member who was especially inspiring to Vonn; her grandfather, Don Kildow, who died in November 2017. Much of Vonn's Instagram is dedicated to the memory of her grandfather.
She wrote a lovely message to her grandfather in this Instagram post prior to the Olympics, where she said she would be competing for his memory:
My Grandfather meant the world to me. He was the toughest and sweetest man I have ever known. This is a short clip of the piece @nbcolympics did on his service in the Korean War. I will be competing for him in these Olympics and I hope to honor his memory and make him proud. 🙏🏻R.I.P. Grandpa ❤️
She Takes Things In Stride
Vonn's career has been impressive, but she's had some awful disappointments along the way. She was unable to compete at the 2014 because of a torn ligament, and she was severely injured during training just days before competing at the Turin, Italy Olympic Games in 2006, to the point where she had to be airlifted out by helicopter. At the 2018 Winter Games, she failed to place in the super-G course on Saturday.
Her reaction? As she wrote of her loss on Instagram:
I gave it my all today and had one mistake that cost me a medal. I'm not crying or sad because I left my heart on the mountain and that's all I can do.
The same holds true for her recent spate of internet trolls, who have taken umbrage against her decision not to visit the White House if she wins a medal at the Olympics this year. Vonn told reporters, according to CNN, in PyeongChang that she "won't back down" from bullies, even those who have taken to social media to say they hope she breaks her neck.
As Vonn prepares to compete in her next race on Wednesday, it seems certain that she's going to come out on top. Whether she wins or not; it's just how she's made, I suppose.
Check out Romper's new video series, Romper's Doula Diaries:
Watch full episodes of Romper's Doula Diaries on Facebook Watch.