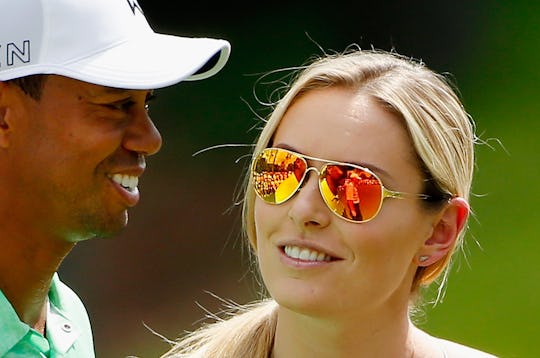 Ezra Shaw/Getty Images Sport/Getty Images
Lindsey Vonn's Quotes About Tiger Woods Prove There's No Bad Blood Between Them
The 2018 Winter Olympics are just about over, and while there's been some magnificent athleticism and fabulous figure skating to witness, people can't seem to take their eyes off one Olympic skier — Lindsey Vonn. Perhaps it's because she's declared her currently single status on Twitter on Valentine's Day while in PyeongChang, but her past relationships seem to still linger in her diehard fans' minds. And Lindsey Vonn's quotes about Tiger Woods, one of her most highly-publicized relationships that ended nearly three years ago, will take those curious minds down memory lane.
Obviously, Vonn is pretty darn busy winning Olympic medals and making her late grandfather proud (and the rest of the world super emotional). But because she really is such a star, she's often on tabloid covers and captured by paparazzi. And her past relationship with pro golfer Tiger Woods only seemed to catapult all that attention. In case you forgot, Vonn and Woods' relationship started back in 2012, before Vonn divorced her husband, Thomas Vonn, and Woods' cheating scandal with his ex-wife, Elin Nordegren, died down.
Since the two athletes were each so well-known individually, when they got together it dominated headlines. Officially, the two said that they started dating in March 2013, according to Us Weekly, but reports suggest it was actually at the start of 2013, after meeting and becoming friends in 2012. Vonn's divorce was finalized in January 2013.
So, what all has Vonn said about Woods? There's actually a lot to dive into, since they were together from 2012 to 2015.
When They First Got Together, They Had A Lot In Common
Speaking to David Letterman back in 2013, Vonn explained how the couple initially got together. "We're athletes, so I guess we have something in common there," she said according to Us Weekly. "We met at his charity event in Vegas, Tiger Jam, and, yeah, we were friends for a long time. I don't know, we just kind of relate really well to one another."
Totally understandable, right? The pressures of being a famous athlete are probably pretty intense most days. It makes sense that they would both want to be with someone who understood that.
But...Vonn Wasn't Always A Fan Of Woods
In a 2010 article, TIME reported that Vonn was poking fun at Woods during his press conference following his cheating scandal. Per the article, Vonn was watching Woods' press conference about the whole ordeal, and she couldn't help but laugh at the theatrics. After Vonn's friends told her that Woods hugged some friends after his speech, Vonn replied, "They're like, 'Yeah, you're awesome, you go have that sex.'"
Clearly, those comments didn't keep Vonn and Woods from getting together eventually.
When They Were Together, Vonn & Woods Were Totally Supportive Of Each Other
Woods and Vonn were together for a while — from 2012 to 2015 — so it makes sense that he would have been there while she went through some really tough times. As Us Weekly reported, Vonn explained that after her knee injury in 2013, Woods was totally there for her:
He's very patient and he's very mentally tough. He's a grinder. He works extremely hard, and he's obviously also had an ACL injury as well and had the same surgery, so he knew what I was going through. He said just be patient, keep working hard, and everything is going to turn around. It really helped me get through it.
Obviously, the two were extremely in love.
Their Official Relationship Announcement Had Vonn Gushing
Finally, in March of 2013, both Vonn and Woods confirmed their relationship on their separate Facebook pages. Vonn kept it simple, writing, "Our relationship evolved from a friendship into something more over these past few months and it has made me very happy," according to Us Weekly.
Vonn Also Told Fans Of Their Breakup On Facebook
On May 3, 2015, Vonn took to her Facebook page to tell her fans and followers that her relationship with Woods had come to an end. She wrote:
After nearly three years together, Tiger and I have mutually decided to end our relationship. I will always cherish the memories that we've created together. Unfortunately, we both lead incredibly hectic lives that force us to spend a majority of our time apart. I will always admire and respect Tiger. He and his beautiful family will always hold a special place in my heart.
According to Vonn, the couple broke up because they both had busy lives and couldn't find the time to spend together.
After They Broke Up, Vonn Still Had Nice Thoughts About Woods
In a June 2016 interview with Access Hollywood, Vonn expressed that she had nothing but goodwill for Woods, a year after their split.
"I still love him," she said, according to People. "He's a great guy and he's a great father. I have the utmost respect for him. I just wish him the best. We're friends. We're just two adults that – it didn't work out."
And that wasn't the only time Vonn has wished Woods well after their breakup.
Most Recently, Vonn Was Asked About Woods & Was Still Kind
In a January 2018 interview with Sports Illustrated, Vonn was asked about her relationship with Woods, and she really had only good things to say. For the most part, she told the publication:
I loved him and we're still friends. Sometimes, I wish he would have listened to me a little more, but he's very stubborn and he likes to go his own way. I hope this latest comeback sticks. I hope he goes back to winning tournaments.
Clearly, the two have a bit of history, and it seems as though they're able to remain amicable, despite their breakup.
Check out Romper's new video series, Romper's Doula Diaries:
Watch full episodes of Romper's Doula Diaries on Facebook Watch.