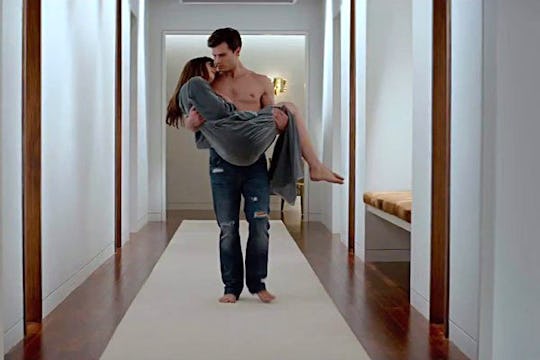 Universal Pictures
Listen To Miguel's "Crazy In Love" Cover, Because The 'Fifty Shades Darker' Song Is Hot
The collective heart of the internet was set aflame once again, thanks to the new Fifty Shades Darker trailer which debuted earlier this morning. Like the initial trailer for last year's Fifty Shades of Grey, the first film in the series, the sequel's first trailer features a brand-new cover of the 2003 Beyoncé hit "Crazy in Love." The song in all its incarnations seems to have become the de facto theme of the series, and all I want to do for the next five months until the movie comes out is listen to Miguel's "Crazy in Love" cover – the new version is just as sultry and amazing as Queen Bey's first re-recording back in 2014.
From the moment that Beyoncé dropped the teaser for the very first Fifty Shades of Grey trailer back in July 2014, fans of both the pop superstar and the bestselling erotic romance series were immediately captivated by the slowed-down, super-sexy new take on the more upbeat, clubby, dance anthem-y original from over a decade before. Beyoncé's new cover of her song was in demand from the moment the full trailer premiered. People wanted to buy the song, and they wanted to buy it ASAP, which probably contributed to the fact that the trailer broke all kinds of viewing records. Now, with the release of the new Fifty Shades Darker trailer (and the accompanying new Miguel cover of "Crazy in Love"), history will probably be repeating itself.
For now, we can only listen to the brief snip-it of Miguel's brilliant (and creepy!) version by watching the Fifty Shades Darker official trailer.
But, if this cover follows the same pattern as the last film's stripped-down version of the song, Miguel's version will be available on the film's soundtrack when that is released sometime next year. For reference, the Fifty Shades of Grey soundtrack was released one day before the world premiere of the movie in 2015 and three days before its wide release. Beyoncé's "Crazy in Love" 2014 trailer remix was included in the soundtrack, along with the two singles that preceded the album's release, the Academy Award-nominated "Earned It" by The Weeknd and "Love Me Like You Do" by Ellie Goulding.
Fingers crossed that the soundtrack does drop before the movie's release, once again! That way we only have to wait a bit less than five grueling months to listen to Miguel's new cover over and over (and over) again.