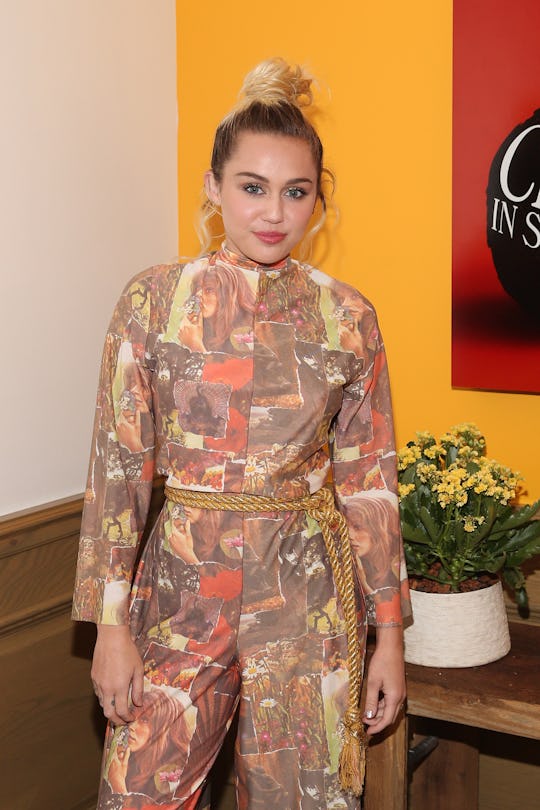 Rob Kim/Getty Images Entertainment/Getty Images
Little Girl Sings To Miley Cyrus & Liam Hemsworth
Miley Cyrus could have been spending her holidays doing basically whatever she wanted. She could have been jetting off to Europe or some tropical island, could have rented a yacht to sail around the Mediterranean Sea for a few days, could have been skiing in the Alps or diving off the coast of Australia. Instead, The Voice host chose to spend Friday at a children's hospital, visiting the patients with boyfriend Liam Hemsworth. It was an emotional day for the couple, particularly when one little girl sang to Cyrus and Hemsworth, moving Cyrus to tears.
The couple were visiting Rady Children's Hospital in San Diego on Friday on behalf of Cyrus' Happy Hippie Foundation, a non-profit she started in 2014 to "rally young people to fight injustice facing homeless youth, LGBTQ youth and other vulnerable populations." Cyrus and Hemsworth went to the hospital with little fanfare, simply to spread some holiday joy to the patients (many of whom know her from her days as Hannah Montana). While the couple reportedly enjoyed an "emotional and magical" visit to the hospital, one patient in particular really hit them in the feels. Young Julia Davidson sang her own sweet rendition of "Rainbow Connection" to the couple, and if this doesn't make you cry... I just don't know what to say to you.
When little Julia Davidson finished serenading the couple from her hospital bed, Cyrus was in tears. She told the little girl, "You made me cry because it was so beautiful! Do you know how important it is to make people cry when you sing."
According to the YouTube video shared by Todd Davidson, Julia is eight-years-old and has been fighting neuroblastoma, a type of childhood cancer that attacks the immature nervous system.
After their emotional visit with young Julia Davidson, Cyrus and Hemsworth visited other kids in the hospital, taking fun selfies and generally spreading good cheer.
The Rady Children's Hospital shared their appreciation on Facebook with a slideshow of the couple's visit and their thanks:
Today we received a surprise special visit from a couple of people you might recognize! Thank you to Miley Cyrus, Liam Hemsworth and The Happy Hippie Foundation for bringing joy and laughter to our patients!
I'm not sure who enjoyed the "very special day" at the children's hospital more; the patients, who could use a little sunshine right about now. The staff, who must get worn down emotionally on a daily basis. Or Liam Hemsworth and Miley Cyrus.... who are clearly doing exactly what they want with their holiday season.