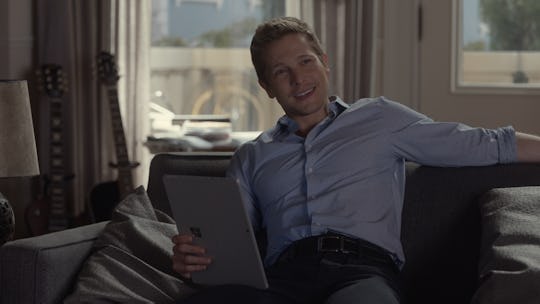 Netflix
Logan's Ending On The 'Gilmore Girls' Revival Is Left Up In The Air
(Warning: This post contains major spoilers from all of Gilmore Girls: A Year in the Life.) Did you just finish Gilmore Girls: A Year in the Life? Do you want to talk about what is going on? Well, you've come to the right place. A lot happened in the final moments of the fourth episode of the revival — so much so, that you have to wonder what is to come regarding the fate of the series. Will there be more episodes? Will everyone return if there are? A lot of characters' fate is up in the air, but Logan's fate on the Gilmore Girls revival is so up in the air, that he's basically the human shrug emoji at this point.
Throughout the series, Rory and Logan were sleeping together. Logan was dating, then engaged to Odette, his girlfriend who later moved in with him, despite his relationship with Rory (that I'm pretty sure she didn't know about). The two seem to call it off, but that sends Rory into a bit of a funk, which Logan attempts to solve by staging a coup with the Life & Death Brigade. The group romps around town, acting like it's the first half of Across the Universe and everything is easy and happy, when in fact, it's really not. Rory and Logan sleep together again, but at that point, she seems to call it off. It's done between the two of them, she is set to return to Stars Hollow (even New York), but not to Logan's home in Maine, or Logan's flat in London. No more Logan. Right?
Wrong! Or so it seems. The ~final four words~ that fans have been waiting years — literally years — for reveal that Rory is pregnant. Ah, full circle plot lines, got to love them, right? There are a few potential fathers, but the show doesn't go into detail. It's never going to be that easy, come on. The fathers are: Paul, Wookie, and Logan. Based on the fact that Paul has been MIA since Episode 1, and the Wookie was a fling, I'd say it is very possible that Logan is the father of Rory's baby.
But, that doesn't mean that he's going to be breaking up with Odette and raising said baby with Rory, does it? Again, it's never going to be that easy. Logan and Rory seemed to kiss goodbye their relationship (quite literally) after their night on the town. Rory even visited her father to hear his side of the story — the story neither she nor her mom really know. What is it like being the father of a child raised by a single mother? Given the context at the end of the season, that conversation makes a lot more sense now.
We don't know what is to come for Logan and Rory. All I know is that Logan is definitely not completely out of the picture. Their relationship seemed to flourish more than any other on the season (when it comes to Rory), which is surprising to say the least. I think a lot of fans — at least the vocal ones — were rooting for Jess to be at the end. But, no one is. At least not yet.