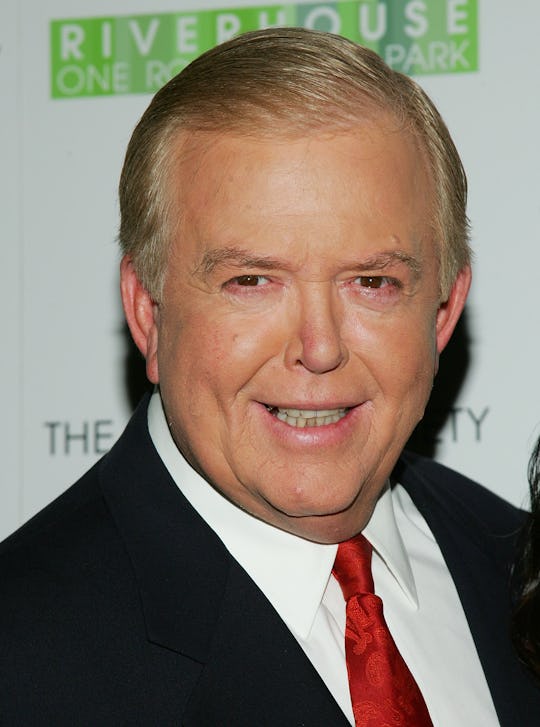 Evan Agostini/Getty Images Entertainment/Getty Images
Lou Dobbs Retweeted The Phone Number Of One Of Trump's Accusers & Went Way Too Low
Just when you thought the 2016 presidential (yes, you read that right, presidential) campaign couldn't get any dirtier, it manages to hit a new low. Amid recent allegations from several women who are claiming that GOP candidate Donald Trump sexually harassed them, Fox anchor Lou Dobbs apparently decided to throw his cap into the fray. Dobbs retweeted the phone number of one of Trump's accusers, because that's definitely, exactly the sort of thing a respectable journalist of Dobb's caliber should be doing.
Jessica Leeds, a 74-year-old woman, was a businesswoman working for a paper company more than three decades ago. She was flying first class, and reportedly had the misfortune of being seated beside Donald Trump on the flight. Leeds told The New York Times in a shocking report this week that Trump allegedly grabbed her breasts and tried to put his hand up her skirt after takeoff.
"He was like an octopus," she claimed. "His hands were everywhere."
Leeds reportedly escaped Trump's alleged unwanted advances by fleeing to the back of the plane. Leeds claimed she watched Trump telling the nation during Sunday night's second presidential debate that, while he might have said in a 2005 taped conversation that he liked to kiss women without their permission and "grab them by the p---y", in reality he had never done any such thing.
It was too much for Leeds. "I wanted to punch the screen," she told The New York Times.
Trump's camp has refuted Leeds' claim, with Trump spokeswoman Katrina Pierson explaining that Trump couldn't have possibly groped Leeds on a plane in the 1980s.... because of airplane armrests.
While the airplane armrest defense is clearly as sound as a pound, Fox Business News anchor decided he thought it might be a good idea to tweet Leeds' phone number and address out to his over 800,000 followers.
In his initial retweet, Dobbs was seemingly attempting to link Leeds to the Clinton Foundation. The article Dobbs was retweeting claimed that the phone number supposedly belonging to Leeds was actually linked to the Democratic party (I guess if Leeds likes Clinton that must mean she made the whole thing up, right?). The tweet has since been deleted, but has already been retweeted over 1,100 times.
Immediately, Twitter users began angrily speaking out:
Dobbs has since issued a halfhearted apology/curt statement via Twitter, writing "My Retweet, My Mistake, My Apology to Jessica Leeds," and tweeting an article about his initial Twitter gaffe.
This is a new low. To share someone's personal information on social media, particularly during one of the most polarizing presidential campaigns in living memory, is not only uncalled for but massively irresponsible.
Whatever Dobbs, or anyone else, may or may not think of Ms. Leeds' claim, this was simply not acceptable. Dispute the claim in the public sphere, certainly. But to release someone's personal information online — or in Dobbs' case, retweet it — it one step too far.