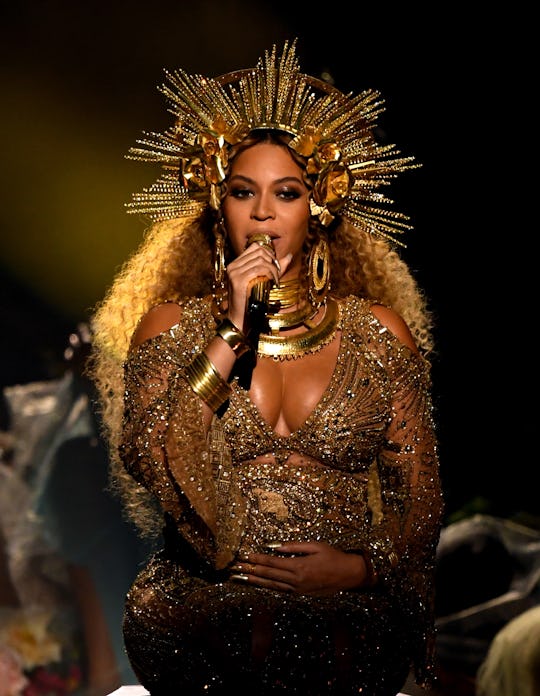 Kevin Winter/Getty Images Entertainment/Getty Images
Bey's Grammys Performance Makes 2017 Alright
Of course, it was the moment we were all waiting for: Beyoncé's Grammy performance. And of course, it was beyond worth the wait. It was life-altering, brave, beautiful, and just... Beyoncé. If you missed it, find a way to watch it. Because the lyrics from Beyoncé's Grammys performance will make you feel better about 2017. I promise.
Beyoncé was introduced by her incredibly proud mom, Tina Knowles. Knowles talked about her pride in being the mother of daughters ("all Grammy winners; that's not part of the speech, I'm just saying", she said). It was a beautiful precursor for what was to come. A performance grounded in femininity, in motherhood, in the power of our connection to each other. As visually stunning as her performance naturally was, her words were incredibly symbolic. And felt especially relevant for this year of turmoil and change. The performance featured Beyoncé reciting poetry from Somalian-born poet Warsan Shire (which was also featured throughout Lemonade):
Baptize me, now that reconciliation is possible. If we're gonna heal, let it be glorious. 1,000 girls raise their arms. Do you remember being born? Are you thankful for the hips that cracked? The deep velvet of your mother and her mother and her mother? There is a curse that will be broken.
Beyoncé sang two songs from her album Lemonade, "Love Drought" and "Sandcastles" during her Grammys medley. She performed pregnant with twins, proudly showing off her swollen belly. While Queen Bey's performances are generally athletic, this time around her movements were serene, decidedly purposeful, elegant, statuesque. She relied on theatrics and kept the stunts light — all to prove a point: motherhood is the most athletic, theatrical, inspiring, incredible, amazing thing a body can do. (Although if I am honest, that chair scene was a little frightening for me.)
The words of "Love Drought" seem especially important right now, as 2017 begins full of political strife and uncertainty, calling on the power the average person has to create and effect change:
You and me could move a mountain
You and me could calm a war down
You and me could make it rain now
You and me could stop this love drought
Beyoncé ended her set with this beautiful quote: "If we're going to heal, let it be glorious."
Sure, Queen Bey might not have won Song of the Year or Album of the Year. Sure, it was incredibly frustrating to see her lose, yet again (although we do love you, Adele, so no offense). But she won the night with her meaningful performance that made us feel, made us think, and perhaps most importantly of all, made us hope.