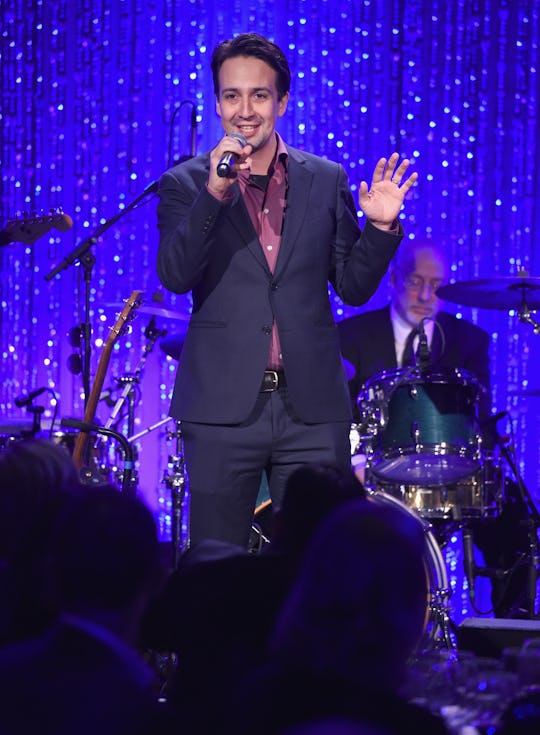 Dimitrios Kambouris/Getty Images Entertainment/Getty Images
The Lyrics To Lin-Manuel Miranda's Oscar Prologue
Lin-Manuel Miranda is nothing if not a consummate professional. The creative force behind Hamilton was on stage at the Oscars on Sunday night and, as always, he managed to bring something new and fresh to his performance. The actor gave a brief intro to the performance of his Oscar-nominated song, "How Far I'll Go," and the lyrics from Lin-Manuel Mranda's Moana prologue show his talent and generosity as a performer.
Miranda set the scene for 16-year-old singer, and the voice of Moana herself, Auli'i Cravalho to truly shine while performing the Oscar-nominated song. It was a lovely, composed performance by such a young singer. And, naturally, Miranda was utterly flawless. If he wins an Oscar for Best Original Song tonight, NBC News reported that Miranda will be the youngest person to EGOT. According to the publicaiton, Mirand won an Emmy for his production of the 67th Tony Awards, two Grammys for Best Musical Theater Album for In The Heights and Hamilton, and three Tony awards for the same productions. So now he just needs a little old Oscar and he'll be sound as a pound. Miranda was reflective about the possibility of the elusive EGOT when he spoke to People, noting that it was actually Disney movies that got him interested in the Oscars.
It's funny that the Oscars race is sort of the end of the chapter for Moana, because I fell in love with the Oscars because of Disney. The Little Mermaid was my favorite movie — it changed my life. And I remember that was the first time I watched the Oscars feeling like I had a horse in the race. Feeling like, 'If "Under the Sea" or "Kiss the Girl" does not win best song, I don't know what I'll do.'
It came as no surprise that Lin-Manuel Miranda (who adorably brought his proud mom as his date to the Oscars) delivered some crisp new lines for the Oscars.
Before she sings her solo, shall I set the scene?
Picture a young warrior, not even 17.
She dreams of open seas; she's full of hope and sees a future where she sets the sail and ropes the open breeze.
She doesn't know that she's a voyaging descendant.
Impatient, independent, all of nature in attendant.
The ocean's at her feet, she opens her eyes to find her mind is on her island but her eye is on the horizon lines...
Lin-Manuel Miranda has been blessing us all over the place, and will reportedly continue to bless us in the near future; Miranda is set to collaborate with Disney for a remake of The Little Mermaid, according to The New York Daily News. So we've got that to look forward to, right?