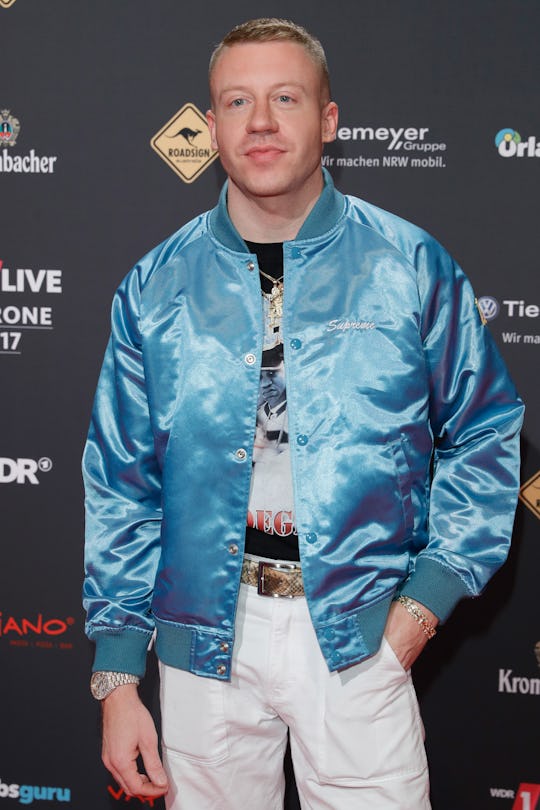 Andreas Rentz/Getty Images Entertainment/Getty Images
Macklemore's Thoughts About Balancing Fatherhood & Work Are Something Every New Dad Should Hear
It can't be easy being a father, or any parent with a brand new baby, who travels for work. And correct me if I'm wrong here, but there seems to be something of a disconnect about the way society looks at the role of fathers, although it does appear to be changing. While most people understand that new mothers suffer when separated from their babies, the same empathy doesn't generally extend to the fathers. They are frequently expected to head back to work, and it can be pretty emotional, especially if work is far away. Take 34-year-old rapper Macklemore, for instance. During a recent interview with Fault, new father of two Macklemore opened up about balancing fatherhood and his career, and I think it's actually quite an important point to make.
The "Thrift Shop" rapper welcomed his second child, a daughter, with wife Tricia Davis just before St. Patrick's Day in March. He is already a doting dad to 2-year-old daughter Sloane, so much so that he has her name tattooed across his chest. He and Davis announced the second pregnancy back in September 2017 with a sweet video on Instagram. He also used the video to announce extra dates for his tour with singer Kesha, but insisted that the birth announcement was true. And so it was.
During his interview with Fault, Macklemore talked about trying to balance his career with fatherhood:
It's strange to spend eight days with my newborn and then to leave and go on tour. It's tough to look at pictures, and I feel like I'm missing something, and in a way, I don't even know my baby yet. I've been away from her more than I've been there and it's hard, but FaceTime is a beautiful thing in the meantime.
Macklemore, whose real name is Ben Haggerty, has shared screenshots of FaceTime conversations he's had with daughter Sloane in the past, so he's become something of an expert on staying connected with his family while on tour. Last month he shared a snap of Sloane on Instagram with the caption: "Sloane mastering the art of FaceTime. Missing her like crazy right now."
The most recent addition to the family has yet to be seen on social media, and her parents still haven't even shared her name with the public. But, as Macklemore told Fault, the new family is taking their time adjusting to their surprise addition:
My baby wasn't planned so we're adjusting, and people have been doing this forever so I am looking forward to eventually slowing down and just honing in on family life and being a dad for a good while.
It's a wise way to look at parenting, as something you're going to be doing for a "good long while" rather than panicking about the here and now. Still, it would be incredibly difficult to be away from your baby after just eight days at homeAlthough technically Macklemore got more time than another famous dad; Prince William. After he and wife Kate Middleton welcomed their third child, Prince Louis, last Monday, the prince immediately went back to work. As in two days after his baby was born, Prince William was at an Anzac Day memorial service... and fell asleep. Because, oh yeah, he had just welcomed a baby.
Macklemore clearly loves being a father. He recorded a song with Ed Sheeran about fatherhood in 2015 called "Growing Up (Sloane's Song)," and his Instagram feed is chock full of prime Sloane pictures. And while yes, it's definitely tough on him to be away from his daughters so often, I think he has the right idea. Looking at the long game of parenting, the years to come and the miles to go. Hopefully the thought of everything he has coming will keep the dad guilt at bay for him.
Check out Romper's new video series, Bearing The Motherload, where disagreeing parents from different sides of an issue sit down with a mediator and talk about how to support (and not judge) each other's parenting perspectives. New episodes air Mondays on Facebook.