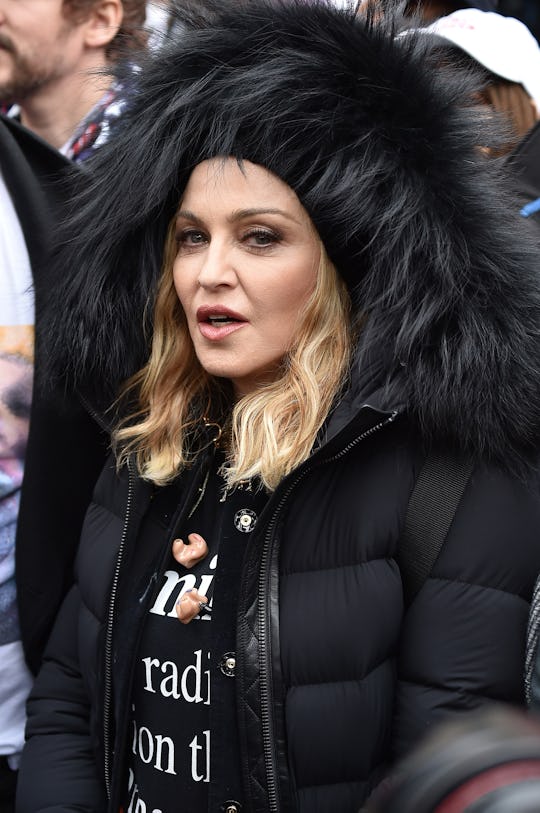 Theo Wargo/Getty Images Entertainment/Getty Images
Madonna Is Adopting Twins From Malawi
Let's just go ahead and call 2017 the Year of the Twins, shall we? After news broke last week that Queen Bey is expecting twins with husband Jay Z, we've all got twins on the brains. Everything seems to be cropping up in twos, right? And it looks as though we have more twins to get excited about; Madonna is adopting twins from Malawi. The original "Material Girl" and mother of four has long been a supporter of orphaned and vulnerable children in Malawi, and has said that she felt "compelled" to adopt the four-year-old twin girls who have been orphaned since their mother died when they were just one week old.
The Grammy award winning singer has adopted from Malawi before; in 2008 she adopted son David Banda with then-husband Guy Ritchie and in 2009 she adopted daughter Mercy James. The 58-year-old (who has two biological children as well, 20-year-old daughter Lourdes and 16-year-old son Rocco) had her adoption order confirmed by the Malawi courts on Tuesday; she signed the order with her new daughters, their father, and their uncle all present to witness the adoption. Malawi judiciary spokesperson Mlenga Mvula told People that the girls' mother died in 2012, when they were just one week old:
After their mother died, the children were looked after by their grandmother, who could not fully provide for them, so they were taken into an orphanage.
Mvula also confirmed that Madonna "exuded happiness" when her adoption was confirmed, saying "she smiled while she was making her way out of the courtroom, and then she drove away" with her precious daughters.
As much as the people of Malawi people have meant to Madonna (her charity Raising Malawi is in the process of building the country's first pediatric surgery and intensive care unit, the Mercy James Institute for Pediatric Surgery and Intensive Care), she was by no means treated with kid gloves when going through the adoption process. Judge Fiona Mwale, who oversaw the adoption, asked the singer some "uncomfortable questions", according to court documents obtained by The Associated Press. In her ruling, Mwale said:
The petitioner is a professional performer and I guarded myself against the danger of her merely reciting a well-rehearsed speech by asking her some rather uncomfortable questions to which she gave very candid answers.
After interviewing the singer, Mwale said she was satisfied that Madonna was "motivated by her desire to offer a home, love, protection and guidance to the infants."
The adoption went through the court unchallenged. Mwale also said:
There is no doubt that the petitioner can offer the infants not only the best education money can buy, but also guidance with a high likelihood of ensuring that the two infants grow to be self-sufficient adults.
It is a beautiful thing, bringing children into your home for the sole purpose of loving them. Here's hoping the new family fares well.