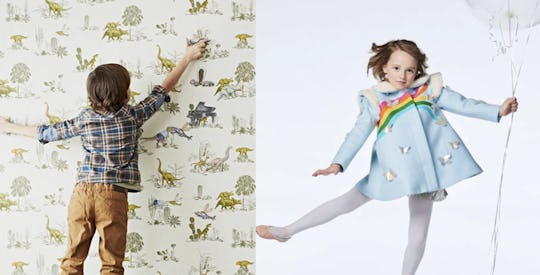 From Magnetic Wallpaper To Butterfly Coats, Etsy Design Award Champs Are *So* Fun
Recognizing the importance of the creative design process and the amount of ingenious talent it takes to make worthwhile products that people actually want, Etsy launched their first-ever global design competition, the Etsy Design Awards. Winners were selected by a panel of judges that included style, decor, and trend experts who picked five category champions, as well as an overall grand prize winner — interactive magnetic dino wallpaper — and you are going to absolutely want some for your kid's room.
Each category's winner features a unique product that celebrates the spirit of Etsy in their particular category. From the leather chair in the Inventive Decor category to the upcycled sandals in the Earth-Friendly category, each design is impeccably exceptional. But, I am here to tell you that the grand prize winning interactive magnetic dino wallpaper is ridiculously genius and perfect for kids who cannot get enough playtime with prehistoric creatures. Designer Sian Zeng has created every little kid's dream wallpaper that allows them to stick and move magnets in all shapes and sizes all over their room.
If your kids would rather wear a winning design than hang one on their walls, you will definitely want to check out designer Little Goodall's rainbow and butterfly coat, which won in the Signature Style category. The three-dimensional metallic butterflies look like they're actually flying off of the sky blue coat. It's pretty magical.
Read on to see what else the Etsy Design Award winners have created and how you can get your hands on their fantastic designs.