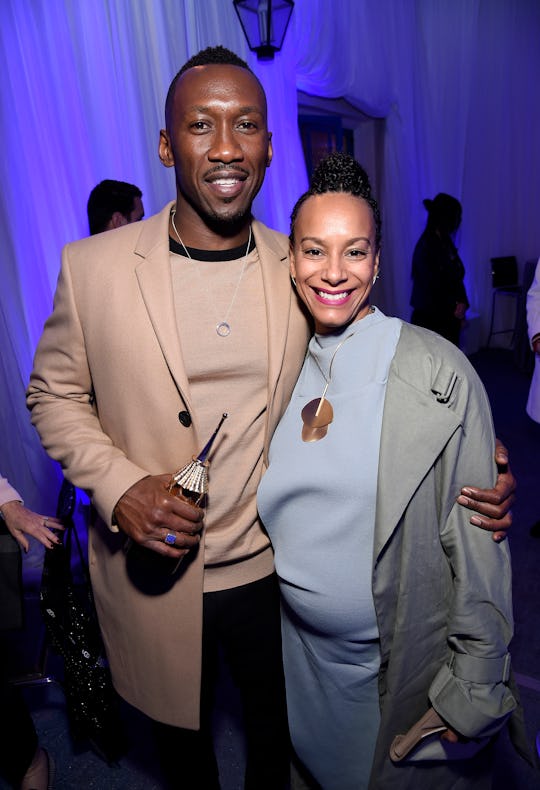 Matt Winkelmeyer/Getty Images Entertainment/Getty Images
Mahershala Ali & Amatus Sami-Karim Are Parents!
What a weekend it's shaping up to be. Not only has he been nominated for a Best Supporting Actor Oscar for his role in Moonlight, actor Mahershala Ali and his wife Amatus Sami-Karim just welcomed their first baby. The little one was born on Feb. 22, according to an Instagram photo Ali posted to his account on Friday night.
The 43-year-old Ali and his artist wife Sami-Karim named their baby Bari (Bar-ee) Najma Ali. In January, the actor and music producer spoke to Jimmy Kimmel about what he and his wife planned to name the baby; He said they wanted "something a little bit simpler for our child," but that they would still "keep it unique." Ali also told Kimmel that his own first name, Mahershala, is actually a nickname. His Christian minister mother actually named him Mahershalalhashbaz, the longest word in the Bible. It is a Hebrew name that Isaiah gave his second son:
It's a symbolic name so he didn't actually have to live through life with that name … but I have to live through life with that name. You should see TSA's eyes.
The newest member of the Ali family has a much easier name to pronounce; and two parents who are clearly thrilled about their little daughter.
Ali and Sami-Karim have been married since 2003 and announced they were expecting their first child in December with another sweet Instagram post.
Which is interesting timing, given Ali has been nominated for his first ever Oscar and the awards will be live on Sunday night. Ali — whom we all recognize not only for his powerful performance as Juan, a tender-hearted drug dealer in Moonlight, but also as Remy from House of Cards — is considered a sure bet for Best Supporting Actor by most Oscar followers. In fact, Ali and actress Viola Davis for Fences seem to be the two ironclad choices this year. As well as La La Land for basically everything else. Will Ali be a no-show? We certainly hope not, especially after his moving, inspired speech at the Screen Actors Guild Awards.
Whether he is able to make it to the Oscars on Sunday or not, and whether he wins or not, Ali is clearly already having one heck of a year. A year he has worked hard for, too: He's been in the industry for 15 years. Not only did he star in two Oscar-nominated movies (in addition to Moonlight, he also starred as Taraji P. Hensen's love interest in Hidden Figures), but he's also become a father for the first time. He has well and truly already won 2017.