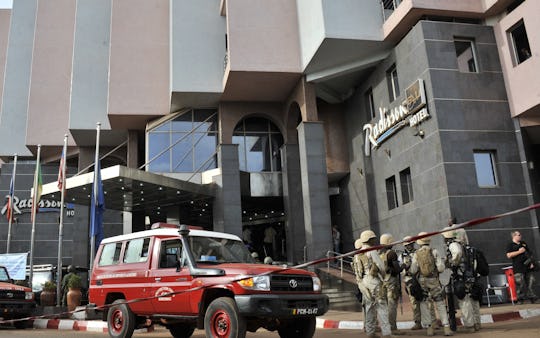 Mali Hotel Terror Attack Victims Include One American Citizen, Says State Department Official
UPDATE: The American Mali terror attack victim has been named as Anita Datar, from Maryland. She was 41 years old and visiting the continent for unconfirmed reasons. When she was in her early 20s, she served in as a Peace Corps volunteer in Senegal. The Associated Press also reports three Chinese executives were killed during the attack.
EARLIER: On Friday, over 20 people were confirmed dead after the terrorist attack in Bamako, Mali. And that includes an American citizen, who was killed in Mali during a hostage situation at the Radisson Blu Hotel. A senior state department official told CNN that, "We express our deepest condolences to the family and friends of the deceased ... Out of respect for the family, we have no further information at this time." West African officials have confirmed that there are also at least six people hospitalized for injuries.
Malian Army Commander Modibo Nama Traore said late Friday night there were two attackers killed in the raid. In total, he reported that two Malian police were among the injured and 126 people were evacuated safely from the hotel. According to various reports, one British citizen has been confirmed dead in the attack. Mali's president tweeted in French thanking the special forces for their assistance.
The attack began at around 7 a.m. Friday morning when assailants stormed the hotel with weapons and held guests hostage for hours. The U.N. and Malian security officials launched a counterattack, utilizing the help of off-duty American and French special forces. By late afternoon, the U.N. officials confirmed that there were no more hostages in the hotel.
On Friday, al-Qaeda claimed responsibility for the attack, and another Islamic military group, Al Mourabitoun, has claimed joint responsibility.
This attack comes just one week after the coordinated terrorism in Paris, which claimed the lives of 130 people. There is no established connection between the two, according to officials.
Image: Habibou Kouyate/Getty