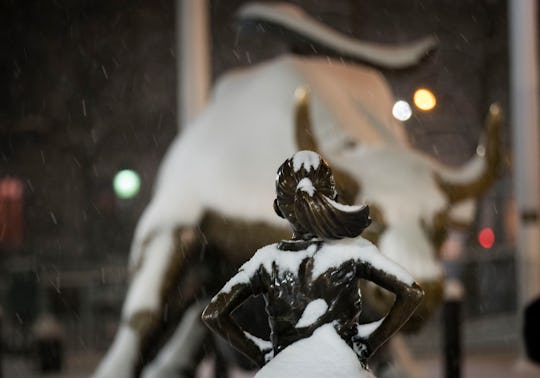 Drew Angerer/Getty Images News/Getty Images
'Charging Bull' Artist Objects To 'Fearless Girl'
In the late 1980s, Sicilian sculptor Arturo Di Modica created a 7,000-pound bronze bull statute to serve as an "antidote" to the 1987 stock market crash. That statue, known as "Charging Bull," has become an iconic figure in Lower Manhattan, synonymous with the "American Dream." After 27 years, a new piece had taken a spot in front of Di Modica's bull: The "Fearless Girl." The 4-foot bronze statue is meant to be commentary on the fact that so few women sit on corporate boards. But since you can't have nice things anymore, the man behind "Charging Bull" statue has objected to "Fearless Girl" because the statue allegedly violates his "artistic copyright." It comes across, though, as ironic that he feels a statue of a woman — representing gender equality — is affecting his work.
According to amNewYork, Di Modica and his lawyer, former New York Civil Liberties Union director Norman Siegel, held a press conference on Wednesday to publicly denounce "Fearless Girl" as a "negative influence" on his work. Di Modica's lawyer claims that the new statue, which was installed in March, "unlawfully" commercializes and editorializes the artist's iconic work that he created to "show strength, freedom, and peace." The "Fearless Girl," as the Washington Post described it, now makes the bull seem "menacing and aggressive" because she is standing him down.
But investment firm State Street Global Advisors and Kristen Visbal, the artist it commissioned to weld "Fearless Girl," say the pig-tailed statue is not a foe of the bull. Instead, they say, the project provides a contrast to the bro-culture of Wall Street and is a symbol that women "are here, that we are heard, that we are permanent."
"Fearless Girl" will stay on Wall Street until 2018, but Di Modica is calling for its removal. He wants the statue relocated and has urged the city to do so multiple times. According to amNewYork, he has not filed a lawsuit yet.
Di Modica's lawyer told Romper that the objection is not about gender. Di Modica's wants "Fearless Bull" removed because his statue "no longer carries a positive and optimistic message," Siegel said, adding that they have been "strong proponents of gender equality," throughout their careers.
In a lot of ways, "Fearless Girl" can be considered problematic. As Emily Peck at the Huffington Post pointed out, the company behind the statue, State Street, doesn't actually practice what it preaches. It only has three female members on its 11-member board, and neither one is in an executive position. According to Peck, State Street's head of public relations, Ann McNally, said of this ratio, "Three and 27 percent is better than zero."
Others have called the artwork an example of "fake corporate feminism" that doesn't advance gender diversity, according to Women In The World. Then there's the issue of failed intersectionalism; as The Establishment explained, the statute represents "a whole bunch of white feminism" because it focuses on gender inequality in the corporate setting, leaving out a whole lot of populations oppressed by the capitalism the bull represents, including transgender people and people of color.
In response, Anne McNally, spokesperson for State Street, told Romper that the firm continues to be "grateful to the City of New York and people around the world who have responded so enthusiastically to what the Fearless Girl represents – the power and potential of having more women in leadership." She continued,
Our goal with Fearless Girl was to create a powerful symbol to stand as a reminder to corporations across the globe that having more women in leadership positions contributes to overall performance and strengthens our economy.
That being said, the problems with the statue do not excuse Di Modica's response. The artist positioned the "importance" of his work above the importance of gender equality. Instead of embracing the message of "Fearless Girl," he denies it. He calls the statue a "negative" because it somehow distorts the message of his iconic work. At worst, it shows how men are often threatened by powerful women or by the idea that something they've done — a piece of artwork — could be problematic itself.
Di Modica says the statue violates his rights, but from this perspective, it seems he's just comforting a deflated ego.