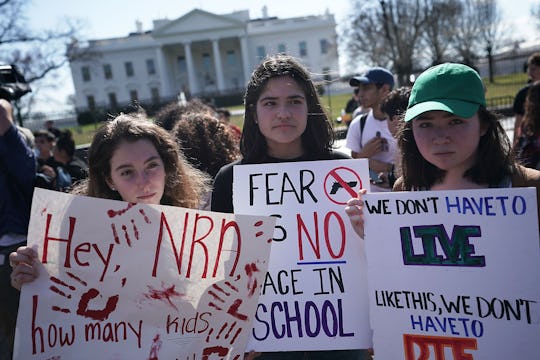 Alex Wong/Getty Images News/Getty Images
What The Police Want Parents To Know Before Bringing Kids To March For Our Lives
Shortly after the recent mass shooting at Marjory Stoneman Douglas High School in Parkland, Florida, which left 17 students and members of staff dead, survivors and victims' families began mobilizing and calling for state and national legislators to take action to stop gun violence. And on March 24, survivors and allies will be leading the March For Our Lives in Washington, D.C., where they'll demand an end to gun violence and school shootings. If you're considering joining them, you might be wondering if it's safe to bring kids to March For Our Lives — particularly since this is an event related to guns.
"These type of activities have been safe for children in the past; however, parents should evaluate all risks and make that decision for themselves," says Karimah Bilal, a public affairs specialist with D.C.'s Metropolitan Police Department. So if you're thinking of bringing your little one, do be smart about it. There are some important aspects to consider.
Since the Sandy Hook Elementary School shooting in Newtown, Connecticut, in 2012, there have been over 1,600 mass shootings, which have killed more than 1,800 people and wounded more than 6,400, according to Vox. The rhythm of the country's response has become predictably familiar: After each tragedy, politicians and activists on the left demand stricter gun laws, while their counterparts on the right say it's not the right time to talk about legislation.
But the March For Our Lives, according to the organizers' website, is not political; instead, "The mission and focus of March For Our Lives is to demand that a comprehensive and effective bill be immediately brought before Congress to address these gun issues."
If you're motivated to join in the demonstration and considering bringing children, you might be wondering whether the event could end up looking like the weapons-laden white supremacist rally in Charlottesville, Virginia, last year. That's unlikely, since gun laws in Washington, D.C., are among the strictest in the country, according to the Giffords Law Center — far more restrictive than in Virginia. The District requires that anyone who wants to own a firearm get a registration certificate, a process that includes a background check and firearms safety training and testing. And certain firearms are prohibited, including assault weapons, .50 BMG rifles, machine guns, and some handguns. It's illegal to openly carry handguns in public in D.C., though concealed carry is allowed if a person meets certain requirements, including firearms safety training.
The march itself is about kids, and it's being organized by high school students and families, so young people and their parents will probably make up a significant portion of the participants. If you bring your own baby or toddler along, you'll probably be in good company. But before deciding, it's worth considering your child's temperament: Will they be OK with staying outdoors for a long time? What if the weather's chilly? Can they handle a few hours straight of staying in their stroller and/or carrier?
Another aspect to consider is how to explain the event to your kids. The sad reality is that even the youngest children aren't safe at school. Your preschooler may already be doing lockdown drills. It's not the sort of thing anyone ever wants to have to discuss with their little ones, but it's a reality of modern life in America. That said, participating in this march can be a good opportunity to not only explain some of the broader context to your child, but also empower them to do something about the situation. And it will show them that there are a lot of people like them who are motivated enough to take action.
One key part of preparing to bring your kids to the protest is making a plan in case of separation. The march route and the day's schedule haven't been published yet, but once they are, Life by Braille advised plotting out reunification points that are easy for kids to memorize and find, and providing them with a cell phone and spare battery packs or, better yet, a two-way radio in order to be able to contact you easily. And even if you don't normally use a "kid leash," this might be the time to break one out. CNN added that you should practice "situational awareness" — know which roads will be closed, where crowds will be gathering before and after the march itself, and take a photo of your kids in the clothes they're wearing in case you need authorities to help you find them. Scary Mommy recommended coaching your kids to find a police officer and to have two emergency numbers memorized (or written on their arm in Sharpie). And make sure that one of those numbers is a landline, in case cell phone service is disrupted.
If you're concerned about counter-protestors, or the possibility that things could turn violent, it's important to trust your intuition. If that means having the kids sit this one out, or leaving the event early, go with your gut. Alternet suggested to always have a good idea of your public transportation options — be aware of the nearest metro stop in case you need to get away quickly for any reason. And stay on the edges of the crowd, advised SFGATE, rather than letting yourself and your group get stuck in the middle. If you do find yourself in a tense situation, unfortunately, there is no one-size-fits all solution. As Bilal notes, the M.P.D.'s "[r]ecommendations vary depending on the threat." But as a general guide, She Knows advised that you stay calm, keep the members of your group close, and be prepared to move to a safer space.
Check out Romper's new video series, Bearing The Motherload, where disagreeing parents from different sides of an issue sit down with a mediator and talk about how to support (and not judge) each other's parenting perspectives. New episodes air Mondays on Facebook.