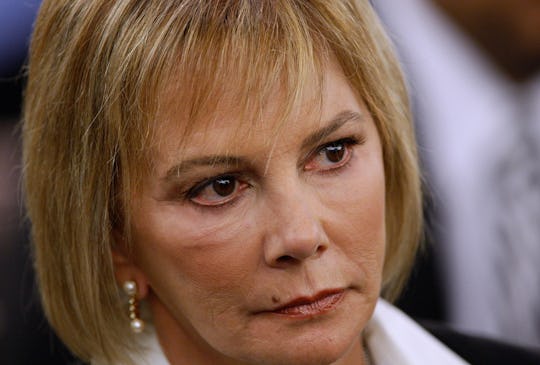 Justin Sullivan/Getty Images News/Getty Images
Marcia Clark Quotes About The O.J. Simpson Jury Show How Much She Struggled During The Case
Tuesday's episode of FX's American Crime Story, "A Jury in Jail," is all about – unsurprisingly by the title — the O.J. Simpson trial jury. Prior to Tuesday's episode, the show only explored players on the prosecution and defense sides, like Marcia Clark and Simpson himself. The jury, however, was obviously important to the case and the resulting verdict. Unfortunately for the prosecution, they often had a tough time reaching the jury, evident in these Marcia Clark quotes about the O.J. Simpson jury.
Newser points out that in an interview with Dateline, Clark believed if the case occurred today, it may have had the same outcome. She said this due to the mistrust of police, which echoes mistrust in the early '90s caused by the Rodney King beatings. Clark said, "Because in the wake of all these police shootings and all the racial mistrust that has been exposed, probably what would result, in my opinion, is a hung jury."
The case was supposedly "painful" for Clark to be apart of. Unfortunately, she had to endure sexism by the public and the media — not to mention she was going through a messy divorce at the time — but the content and verdict of the trial also upset her. ‌
"It was physically painful," Clark said during the interview with The Hollywood Reporter. "And I thought of Ron [Goldman] and Nicole [Brown Simpson], and I thought, 'This is wrong.'"
In the same Hollywood Reporter interview, Clark says that, ultimately, she could not get the jury on her side. "There was no way to reach that jury. There was no way to make them believe. There really wasn't," she said.
According to Clark, the jury did not care if Simpson was innocent or guilty. Clark believed she showed them an enormous amount of evidence pointing to the latter, but they still acquitted Simpson. "At the end of the day, the evidence didn't wind up mattering because there was a fundamental large issue standing in the way of seeing the evidence," she said.
Clark told Josh Mankiewicz on Dateline that the jury used this case for "payback" for police brutality. The public mistrusted the LAPD, which led to the lack of conviction. While Clark said that a jury today might have done the same thing, the DNA evidence against Simpson may have been trusted more today. "I think juries probably are more receptive to scientific evidence in general today," she said. In the '90s, DNA evidence may not have seemed as significant to jurors — which was a point on Tuesday's episode.
It's clear that Clark did not appreciate the members of the jury. Regardless, American Crime Story gives space for them to tell their stories, and allows us to see what they were going through as well.