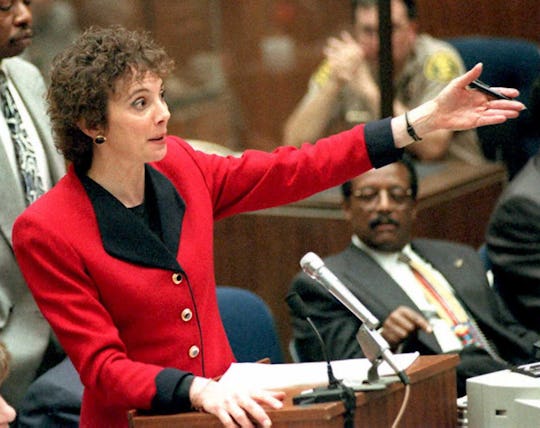 POOL/AFP/Getty Images
Marcia Clark Quotes On Her Divorce That Prove The O.J. Simpson Trial Wasn't The Only Stressful Thing Going On
FX's American Crime Story works to portray what the players of the O.J. Simpson trial were going through. One such player is Marcia Clark, part of the prosecuting team. Throughout the series, Clark — portrayed by Sarah Paulson — has had to face a wide range of obstacles, from a frustrating jury to sexist comments about her hair. What the show also showed, particularly on Tuesday night's episode, was the struggles Marcia Clark faced going through her divorce.
As previously shown, Clark's divorce was not her only hardship at the time. For one, she had to deal with horrible sexism by the media and others involved with the case; they both criticized her appearance and her professionalism as a lawyer. Up until Tuesday night's episode, "Manna from Heaven," we have only seen glimpses of Clark's marriage and family life. In the show's sixth episode, for example, we saw that her ex-husband, Gordon Clark, made her look like an unfit mother to the press. Judge Ito and the defense team were not that sympathetic.
Gordon was Clark's second husband, whom she had two children with. When Gordon went to the press saying Clark was an absent mother, her lawyer released this statement: "I am devoted to my two children, who are far and away more important to me than anything. I feel it is inappropriate of me to discuss details of my marital dissolution case or child custody issues in the media."
Clark talked about the personal struggles she faced in a recent issue of People. Clark said that her children were too young to remember the trial, but wanted to watch her. "They called it The Mommy Show," she said of them watching television coverage. Clark also knew what her ex-husband doing was hurting her image. "There was a real hostility there," she said.
Not only was Clark going through rough times with her second husband. Her first husband's mother leaked a nude photo of her to the press, which American Crime Story also touched upon. Clark told People, "It didn't bother me as much on a personal level as it did professionally."
Paulson, who plays Clark, sympathized with what she went through. She told The Daily Beast, "She was just the mother of a 3-year-old and a 5-year-old, going through a terrible divorce, who was a prosecutor for the County of Los Angeles, trying to put bad people away."
Clark said about watching Paulson portray her, "It's just awful, every bit of it is awful and very hard for me." She compared it to reliving a nightmare — which is understandable. Clark dealt with both professional and personal turmoil, which American Crime Story does not shy away from showing.