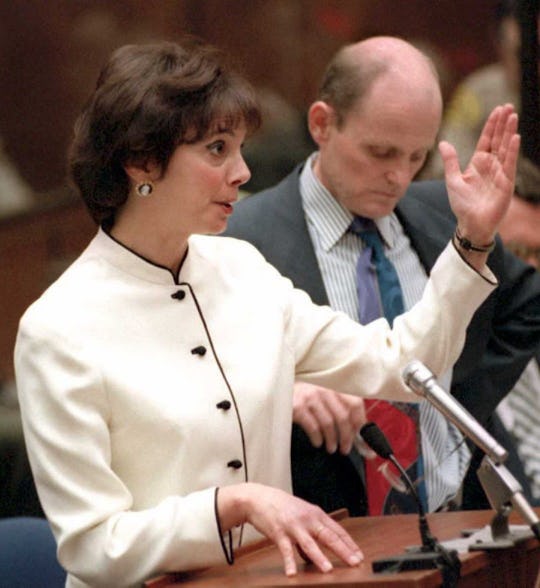 POOL/AFP/Getty Images
Marcia Clark Tells 'TODAY' Justice Wasn't Served During The OJ Simpson Trial
In an interview timed to coincide with the finale of the FX series The People v. O.J. Simpson, former prosecutor Marcia Clark appeared on The TODAY Show Tuesday morning to talk about the trial and the crop of new shows it's inspired. Although Clark and her co-counsel, Christopher Darden, ultimately lost the double murder case against Simpson in 1995, he was found guilty of a separate crime in 2008, and sentenced to nine to 33 years for armed robbery and kidnapping. When asked by anchor Savannah Guthrie whether the fact that Simpson is now imprisoned felt like justice, Clark replied, "It was justice for that case. They caught him on videotape, you know, so he got convicted appropriately in that case. He didn't in ours." (Simpson was acquitted of all charges in the 1995 trial for the murders of Nicole Brown Simpson and Ronald Goldman.)
Guthrie then asked Clark if she felt "satisfied" or "at peace" with the 1995 verdict. While clearly satisfied with her own efforts – "there was nothing more I could do" – Clark is still clearly unhappy with the verdict, which is no surprise. "To say that I'm at peace with the verdict... No. I mean, no, justice was not done." Clark worked tirelessly for more than a year on the "Trial of the Century," and her name is now synonymous with the "not guilty" verdict that she fought so hard against. It's hard to imagine that anyone in her shoes would ever be satisfied or at peace, regardless of what happened in Simpson's later years. Anything short of turning back time and finding Simpson guilty could never be enough.
Clark was asked, once again, about that hair, and thankfully, she now has a great sense of humor about the whole ordeal: "How could I have a makeover and still look like that?!" Guthrie also tried, like many before her, to get Clark to spill on the details of her relationship with Darden, long rumored to be more than platonic, but she's still not budging. Clark kept her characterizations of Darden strictly professional, saying that the two were "the best of friends" and "trench mates."
Clark also recalled her interactions with Judge Lance Ito: "He treated me like a second class citizen," she alleged. Clark revealed that the president of the National Organization for Women actually put together a video presentation for Ito to demonstrate his unequal treatment of Clark (she went into more detail on the subject in a February interview with New York Magazine). She believes that the judge's attitude towards her negatively effected the jury's perception of her.
While Clark didn't plan to watch the series that rehashed her "15 months of trauma," she just couldn't help herself, but she said that she tries to focus on Sarah Paulson as an actress, reminding herself that "it's not me." As for her sons, who were 3 and 5 years old at time of the trial, and who occasionally pop up on the show, Clark said that her oldest, now 26, did watch the first episode, where his character was seen eating puzzle pieces. "He goes, 'Mom, I am not that dumb. Tell me I'm not that dumb.' I told him I thought he should sue."
While Clark may never be "satisfied" with the trial, at least The People v. O.J. Simpson has shown a whole new generation of TV viewers how hard she fought for that guilty verdict, and how little control she truly had over the outcome. The former prosecutor was little more than a punchline a year ago, when Tina Fey parodied her on Unbreakable Kimmy Schmidt, but today, she's a feminist hero. Clark will never see the justice that she sees fit for Simpson, but perhaps she's finally seen justice for herself.