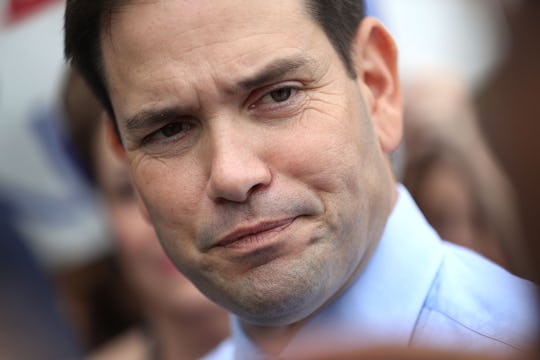 Joe Raedle/Getty Images News/Getty Images
Marco Rubio's Reaction To Steve Bannon's Appointment Was Disappointing, But Unsurprising
Florida Sen. Marco Rubio was a bright star in politics at the beginning of the Republican primaries. He was well-liked by both the old guard GOP and the average voters; was young and optimistic; and, for a while, a potential voice for Hispanic voters in the GOP who may not have felt heard. While he lost the eventual Republican presidential candidacy to now President-elect Donald Trump, he retained his seat in the Senate during the general election. Given his current position and his continued platform to effect change, Rubio's reaction to Steve Bannon's appointment to the Trump White House was disappointing, to say the least.
President-elect Donald Trump's surprising win against highly favored Democratic nominee Hillary Clinton was just a week ago, on Nov. 8, and already Trump is creating more controversy with his White House staff appointments. He named former Republican National Committee Chairman Reince Priebus as his Chief of Staff and former Breitbart News CEO Steven Bannon as his chief White house counselor. Bannon's tenure as chief executive of Breitbart News, a site that many critics have said promotes racism, misogyny, and alleged white nationalism, has some senators urging Trump to reconsider, particularly in this divisive political climate. As New Jersey Sen. Corey Booker told The Hill:
Bannon won't build bridges, he will burn them. He is unfit to advise America's commander in chief.
Yet when The Guardian spoke to Rubio on Tuesday, he said:
I have no reaction.
Rubio went on to say that "the president has the right to choose his own staff." He had nothing to say, apparently, about Breitbart's history of inflammatory rhetoric against any and all Trump detractors, Rubio's self included, when he was still in the GOP presidential primaries. Nothing to say about a site that regularly touts opinion pieces like, "Would you rather your child had feminism or cancer?" and "Birth control makes women unattractive and crazy."
As Breitbart announced it's decision to launch a multi-million dollar lawsuit against a major news outlet for defamation when it was referred to as a white supremacist news site, white supremacists have been celebrating Bannon's appointment to a position of power in Trump's White House on social media. Ken Reed, the national director for the neo-Nazi group the Aryan Renaissance Society, shared a Facebook post after Bannon's hire with the words, "Can you say WINNING boys and girls???? #WhiteLivesMatter.
Democratic senators continue to urge Trump to reconsider appointing Bannon, with Minn. Sen. Al Franken saying:
Steve Bannon should not be allowed to hold any position in the White House, let alone one that would allow him to make critical decisions about how our country is run. White supremacists have made it clear that they see Bannon as their advocate in a Trump administration, which is not only disturbing, it is also dangerous.
Republican Speaker of the House Paul Ryan, on the other hand, appears to have taken a leaf out of Rubio's book. When asked about Bannon's appointment, Ryan said he felt that Americans should look forward rather than paying any heed to controversies from the past.
In other words, don't rock the boat. Don't make the important people mad. And, I guess, just hide your head in the sand and cross your fingers.