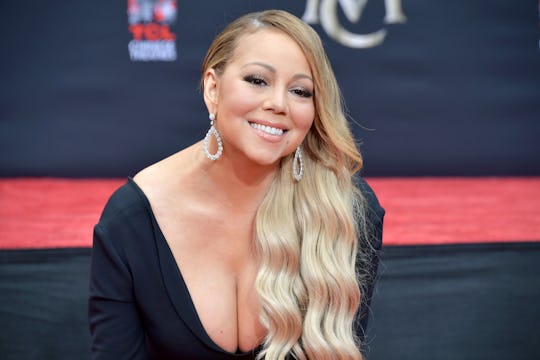 Neilson Barnard/Getty Images Entertainment/Getty Images
Mariah Carey Got Honest About Her Battle With Bipolar Disorder, & Fans Are Here For It
Mariah Carey has spent the majority of her adult life in the spotlight. The Grammy-award winning superstar has been performing since she was signed at the young age of 18 by Columbia Records in 1988. And throughout her career, she has often been considered something of a diva; but it seems nobody really knew the whole story. In a recent interview with People, Carey got honest about her battle with bipolar disorder and her fans are rallying behind her to support her courage.
The "Vision Of Love" singer opened up to People about being diagnosed in 2001 with bipolar II disorder after she suffered a serious mental and physical breakdown. Bipolar disorder was once known as manic depression, and is characterized by unusually dramatic mood swings, according to the National Institute of Mental Health. People who have been diagnosed with bipolar disorder often experience extreme highs, where they feel elated and energized (this is known as the "manic" stage) and depressive lows, where they can often feel hopeless and sad. The mother of 6-year-old twins Monroe and Morrocan admitted that, initially, she "didn't want to believe it," and struggled with feelings of "denial and isolation" for years. Carey kept her diagnosis to herself for years, but decided recently to open up about her life because, as she told People, she's "just in a really good place right now, where I'm comfortable discussing my struggles with bipolar II disorder."
Carey explained further to People that she was afraid to share her diagnosis for a variety of reasons:
I didn't want to carry around the stigma of a lifelong disease that would define me and potentially end my career. … I was so terrified of losing everything, I convinced myself the only way to deal with this was to not deal with this. Until recently I lived in denial and isolation and in constant fear someone would expose me. It was too heavy a burden to carry and I simply couldn't do that anymore… I sought and received treatment, I put positive people around me and I got back to doing what I love — writing songs and making music. As hard as this is, I also knew it was time to finally share my story.
It seems her fans were absolutely ready and willing to hear her story, as people took to Twitter to offer their support to Carey and their gratitude to her for spreading mental health awareness.
Carey has made headlines in the past for some erratic behavior issues, including a rambling acceptance speech at the 2010 Palm Springs International Film Festival and her notorious fights with fellow American Idol judge Nicki Minaj.
Living in the spotlight must be tremendously difficult for anyone, and perhaps especially so if someone is struggling with bipolar II disorder. But these days, Carey told People she is striving for "balance:"
I'm actually taking medication that seems to be pretty good. It's not making me feel too tired or sluggish or anything like that. Finding the proper balance is what is most important.
The "Hero" singer is also hoping to end the stigma surrounding mental health disorders, as she said in that same interview:
I'm hopeful we can get to a place where the stigma is lifted from people going through anything alone. It can be incredibly isolating.
Whether or not you're a fan of Mariah Carey, there's no denying that this sort of high profile coverage of bipolar II disorder is incredibly helpful. For other celebrities, sure, but also for people who are alone and afraid of what accepting their own diagnosis could mean for them. Opening up about her own diagnosis could help countless people, and for that she should absolutely be praised.