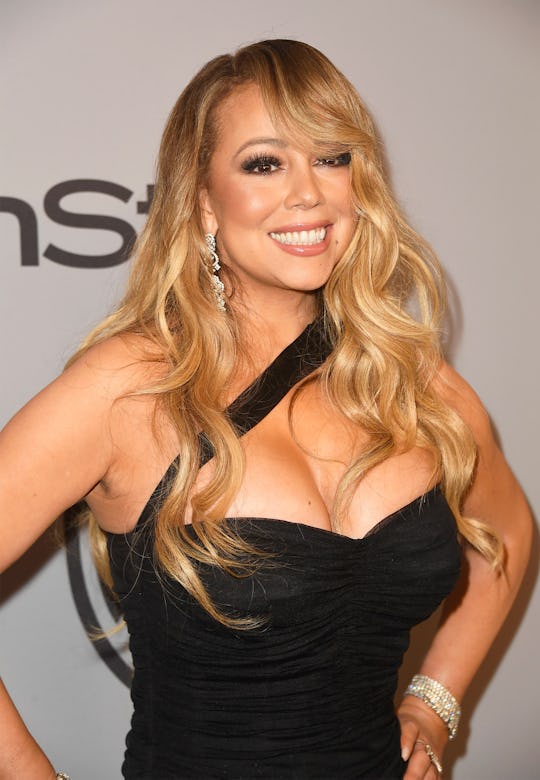 Frazer Harrison/Getty Images Entertainment/Getty Images
Mariah Carey's Son Spent $5,000 On Amazon & Parents Are Cringing
Caregivers know all to well that technology can be both a blessing and curse... especially when it comes to kids. Sure, starting a movie or a YouTube video can be a life-saver when your toddler is losing his you-know-what at a restaurant. And it can be invaluable for accomplishing household chores without having to worry about your child hurting themselves. But when your kids know too much about how to navigate technology— like Amazon, for example — things can definitely get interesting. Apparently, Mariah Carey's son spent $5,000 on Amazon, and parents are cringing.
During an appearance Wednesday on Jimmy Kimmel Live!, Carey explained how her 7-year-old son, Moroccan — whom she shares with her ex-husband, Nick Cannon — once spent thousands of dollars on Amazon, E! Online reported. "Which one of the kids is the better singer?" Kimmel jokingly asked the award-winning vocalist. "I can't say that because they're going to watch this," Carey replied. "My son is like a technological genius. He, by the way, he ordered a dog the other day. I have to control them with the iPads because otherwise, literally he charged $5,000 on something on Amazon. He figures everything out."
Carey continued:
The other night apparently he was with Nick and he ordered a dog. And they called him and they were like, 'Your dog is ready.' He's like, 'I didn't order a damn dog.'
For the record, they were able to cancel the dog order. "The dog's been canceled," Carey told Kimmel. "We have dogs. They have pets! They have fish. They have everything they need."
Although most parents would probably faint if they discovered their kid had went on a $5,000 Amazon shopping spree, I'm willing to bet that plenty of us have had a similar incident — just on a smaller scale. For example: Brooke Neitzel of Dalls Texas made headlines back in January 2017, after the kindergartener unknowingly ordered a $160 dollhouse and 4 pounds of sugar cookies during an interaction with the family's Echo Dot, CBS News reported. Her parents were totally confused about the delivery — and it wasn't until Brooke's mom checked her Amazon app that she revealed the exact conversation that went down between Brooke and the device. "Can you play dollhouse with me and get me a dollhouse?" Brooke asked the tool, according to CBS Dallas. When Alexa confirmed the order, Brooke told the device, "I love you so much!"
Just a month before this, 6-year-old Ashlynd Howell of Little Rock, Arkansas sneakily managed to order $250 of Pokemon toys on Amazon, USA Today reported. While her mother, Bethany, had fallen asleep on the couch, Ashlynd used her mom's thumb to unlock the Amazon app on her phone. The little girl went on to order 13 items for herself — and when her parents noticed the 13 order confirmation notices, they thought their account had been hacked. When the Howells asked their daughter if she had ordered the Pokemon merchandise by accident, she replied, "No, Mommy, I was shopping." (LOL. This 6-year-old knew exactly what she was doing.) Unfortunately, though, the Howells were only able to return four of the Pokemon items.
I too, have learned from experience the importance of parental controls when it comes to Amazon. My then 5-year-old son ended up purchasing a couple of digital videos on his Amazon Fire tablet without either my husband or me knowing about it. Thankfully, I was able to call Amazon and explain the situation — and they refunded the purchases. We got pretty familiar with blocking certain capabilities after this little incident.
Still, this is nothing compared to the $5,000 Mariah Carey's son spent on Amazon. Here's to hoping the famous singer has already figured out the parental controls on her kids' devices — and enabled a PIN for all future purchases.