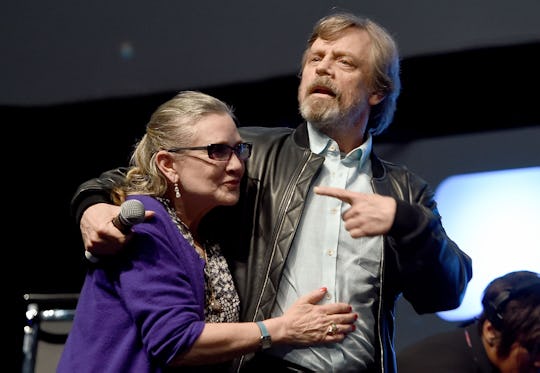 Ben A. Pruchnie/Getty Images Entertainment/Getty Images
Debbie Reynolds & Carrie Fisher "Mothering"
Star Wars actress Carrie Fisher's death on Tuesday of a heart attack at 60-years-old shocked and saddened everyone, but perhaps most of all, the people who had been in her life for decades. When her mother, legendary actress Debbie Reynolds, died the day after she lost her beloved daughter, it seemed almost unbelievable. If you've been reading any of the beautiful tributes to both formidable actresses online, you get a sense of the sort of women they were to the people who knew them best. Strong, funny, kind, honest to a fault. Yet it was what Mark Hamill said about Reynolds and Fisher that really struck a chord with so many.
Hamill has known Fisher for the better part of 40 years; after all, he started out playing her twin brother in the epic Star Wars saga back in 1975. Forty years is an awfully long time to make memories with someone, and Hamill was not only friends with Fisher, but also with her Singin' In The Rain mom, Reynolds. Hamill shared his personal memories with Entertainment Weekly of his two friends and his unique relationship with them:
I felt like I didn't want to do this, that it was too soon to talk about Carrie, and then came the double-whammy of Debbie Reynolds going as well. It's just unimaginable. I'm sure there is a long list of people who knew Carrie better than I did, but that said, our relationship was unique. It was special. We were in the garage band that hit it big and had all these hit albums. Then we split up and went on our merry way.
Carrie Fisher's relationship with her famous mother was, in itself, essentially a character of its own. Her book and adapted screenplay, Postcards From The Edge, were based on her life as the daughter of a famous, talented woman who seemed rather larger than life. Fisher told Entertainment Weekly at the time of the movie's release:
I wrote about a mother actress and a daughter actress. I'm not shocked that people think it's about me and my mother. It's easier for them to think I have no imagination for language, just a tape recorder with endless batteries.
For her part, Reynolds supported her daughter's writing even when it could have been uncomfortable for her. Which was just the sort of relationship these two confident "mothering" women shared, according to Hamill:
They were both really mothering types, both opinionated and determined. Carrie's mom was like everybody's mom. If you were in her house, Debbie was your mother. She gave you advice, and fixed your collar, and said, 'Why did you wear a brown belt with black shoes?'
And while Fisher might have been (affectionately) tough on her mom sometimes, Hamill knew it came from a deep well of love:
In many ways, Debbie was the optimist. She has a spring in her step and is really upbeat and has all the qualities you associate with her, and Carrie would be shuffling around in a bathrobe and slippers muttering under her breath. So cynical! It was a real Felix-and-Oscar disparity between their personalities, and yet in many, many ways they were alike. She was fiercely protective of her mother and her mother's legacy.
After many tributes to both women online in the past few days, it was this loving eulogy from Hamill that seemed to really shine a light on Fisher and Reynolds. And what a tragedy it was to lose them.