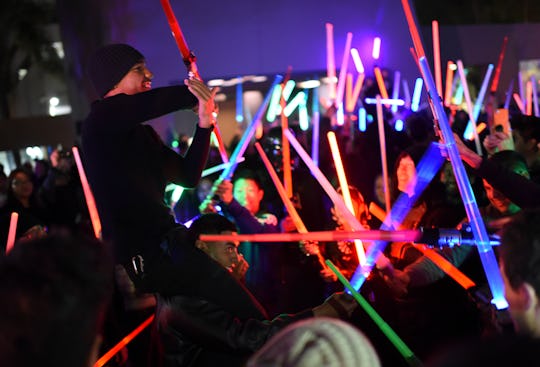 Getty Images
Mark Zuckerberg, Cara Delevingne, & More Geeked Out For 'Star Wars: The Force Awakens,' And The Results Are Incredible
It feels like everyone has been looking forward to Star Wars: The Force Awakens. And everyone was more than eager to show off just how much they were looking forward to Star Wars: The Force Awakens prior to its release, donning costumes that rival the best of cosplay at Comic-Con. For Friday's opening, even Star Wars-obsessed celebrities dressed up to go see the movie. (Let's just be glad President Obama didn't go all Han Solo for his private screening — or did he? We'll never know.)
Even better? Most of the celebrities who dressed up and posted their pics on Instagram bragged about how they were getting their kids involved too. Take Jamie Oliver, who walked his kids to school as a stormtrooper. And Mark Zuckerberg dressed up baby Max in a Jedi cloak.
As for those sans kids? Mindy Kaling pulled off Chewbacca, but the most insane costume was Cara Delevingne in a full-on Jabba The Hutt costume. (She wrote on Instagram that she was watching "in style" — it's a far cry from her usual fashion forward getups.)
Of course, celebrities were hardly the only people to geek up for Star Wars, which grossed $120 million on Friday alone, breaking a record previously set by Harry Potter and the Deathly Hallows — Part 2. But who cares about the money, the records, and all of that? Star Wars is about having fun, too. If these celebs couldn't be part of the film, they at least could dress the part. Here are some of the best costumes from your favorite stars.
Joseph Gordon-Levitt
Zoe Saldana
Max Zuckerberg
Mindy Kaling
Cara Delevingne
Faith Hill
J.J. Abrams, consider the above auditions for The Force Awakens' sequel.
Image: Robyn Beck/Getty Images