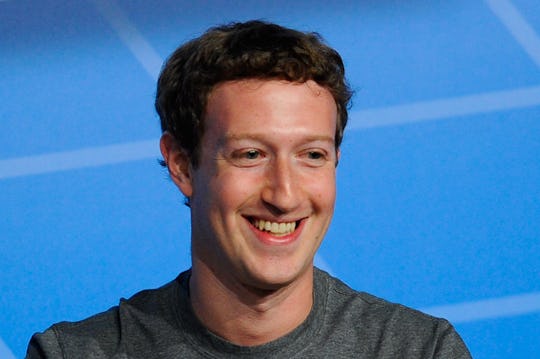 David Ramos/Getty Images News
Mark Zuckerberg Reveals Max's Chinese Name On Chinese New Year & It's Super Sweet
On Monday, people around the world celebrated the Chinese New Year, including the First Family of Facebook. Mark Zuckerberg revealed daughter Max's Chinese name on for the New Year and shared yet another adorable photo of Max and wife Priscilla Chan. Even more impressively, the 31-year old Facebook founder delivered his Chinese New Year's greetings in Mandarin. In English, Zuckerberg's post included the following caption: "Happy Lunar New Year from Priscilla, Max and me! In the Year of the Monkey, I hope you and all your loved ones find happiness, health and good fortune."
The proud parents delightfully announced their daughter Max's second Chinese name: Chen Mingyu. As Zuckerberg explained in the video, "Chen" was after Max's mother's family name and "Mingyu" from the words "ming" (meaning "bright") and "yu" (meaning "universe"). More specifically, Zuckerberg shared that Mingyu represents their "hope for a brighter tomorrow for the world." In the video, both Priscilla and three-month-old Max were bedecked in bright red, a symbol of good luck and health in Chinese tradition. Between Zuckerberg's confident grasp of Mandarin Chinese and Max's adorable little infant squeaks, their sweet family video has already racked up more than 25 million views and nearly 45,000 comments.
Max, the couple's first child, was born in November 2015 and has grown up in the Facebook spotlight since before she was even born. Zuckerberg and Chan announced their pregnancy on the social platform — as well as their candid struggle with miscarriages — and shared a stunning maternity photo of Chan taken by famed photographer Annie Leibowitz.
Max's birth announcement was equally unique. As her parents announced their daughter's birth, they also announced the creation of a visionary organization they've called the Chan Zuckerberg Initiative, whose mission is "advancing human potential and promoting equality," in the same post. The reveal of Max's Chinese name on Facebook proved no different as her parents were more than proud to share their continued joy with the world.
Facebook recently celebrated its 12th anniversary on Friday, so-named "Friends Day" across the platform. (Speaking of: If you haven't yet watched your Friends Day video Facebook has already put together for you, it's pretty neat — go check it out.) As of December 2015, the site boasted more than one billion daily active users, continuing to hold its grip as the dominant social media platform. These deeply personal Facebook posts from Zuckerberg — in combination with creations like Friends Day videos — remind users of what's at the heart of the platform: connection, sharing, and being in the moment, as the family's recent Chinese New Year greeting shows.