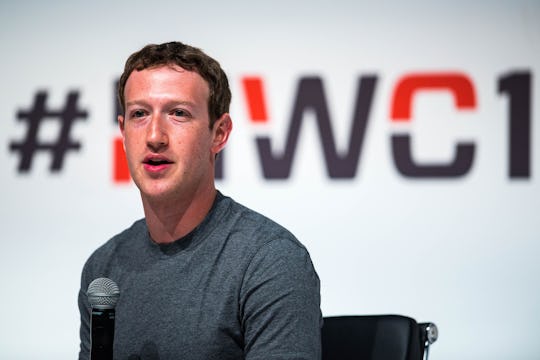 Mark Zuckerburg Says Muslims On Facebook Are "Always Welcome," & His Heartfelt Message Comes At A Really Important Time
In response to the outrageously racist remarks made this week by Donald Trump, other GOP candidates, and their supporters, Mark Zuckerburg took to Facebook to show his support for Muslims everywhere. Zuckerberg cited his upbringing in the Jewish faith as one reason he finds it so important to "stand up against attacks on all communities." Even if the world is fraught with hate and anger, he asserts that the Facebook community will be a welcome one.
Like he did in his landmark announcement of the Chan Zuckerberg Initiative, Zuckerberg thanks his new daughter Max for a new outlook on the world.
If you're a Muslim in this community, as the leader of Facebook I want you to know that you are always welcome here and that we will fight to protect your rights and create a peaceful and safe environment for you.
Having a child has given us so much hope, but the hate of some can make it easy to succumb to cynicism. We must not lose hope. As long as we stand together and see the good in each other, we can build a better world for all people.
Zuckerberg has become much more of a public figure lately, and we can only hope that with his amount of resources and influence, he continues using his power for good, for tolerance, and for change. He admits that it's all too easy for the existing hate to make it easier to succumb to cynicism, but Zuckerburg (and Facebook, by association) are splitting from the hateful, unfounded rhetoric and voicing their continued support for people from all walks of life, regardless of what their religious affiliations and beliefs look like. As a new parent, his message is even more important: What kind of world do you want to leave behind for your children?
The timing of his message can't be ignored, either. Right now there are politicians and presidential hopefuls who are spouting hateful rhetoric aimed at the Muslim community, and most of the world is struggling to answer one impossibly difficult question: Where do you draw the line? By choosing not to draw a line (or even consider it), Zuckerburg and Facebook can continue to operate as a haven for its users; a place they'll all be welcome no matter their beliefs. Will there be times where people will promote and encourage that time of speech on the platform? Sure, but by ensuring that Facebook will not change its policies, practices, or its mission statement, it ensures that hope and compassion thrive.
At the very least, a little hope goes a long way.
Image: David Ramos/Getty Images