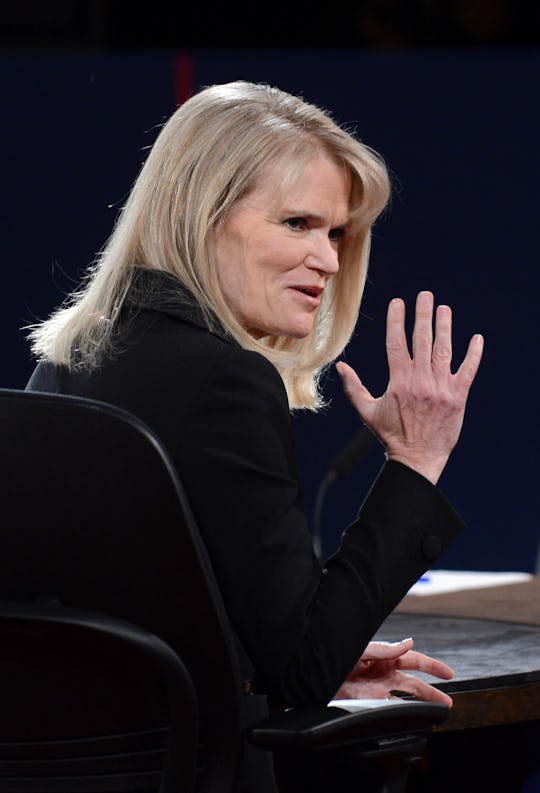 Martha Raddatz Was A Tough Moderator At ABC Democratic Debate & That's Exactly What This Election Needs
No one expected the ABC Democratic debate on Saturday to be anything special, but moderator Martha Raddatz was a tough moderator, making it slightly more interesting than whatever holiday cheese plate you might have saddled up to this weekend. Of course, Raddatz is no stranger to the moderator chair — she served in the role at the 2012 vice-presidential debates, drawing praise from political commentators and voters alike on her ability to question candidates fairly, ask them real questions, and keep it civil. That's not an easy task, particularly when debates often get hostile. (Just see any GOP debate this season.)
But Raddatz didn't pull any punches while addressing Hillary Clinton, Bernie Sanders, and Martin O'Malley on the podium. She didn't hesitate to interrupt the candidates when they needed to be interrupted (i.e., her line of questioning when it came to Clinton's discussion about no-fly zones), yet her style was hardly disruptive or theatrical. And it was fair, with Raddatz spreading the questioning to all candidates, instead of targeting one.
She's informed, and also tough. Proof? When O'Malley asked to interrupt, and Raddatz responded simply, "No." A good moderator pushes candidates to really explain themselves and Raddatz did just that. (Now, if only she skipped that bizarre question about presidential spouses... ) And viewers were applauding her moderating style.
During a primary election as crazy as this one, it's nice to know there's someone who's going to keep it real. Go, Martha, go.
Image: Saul Loeb/Getty Images