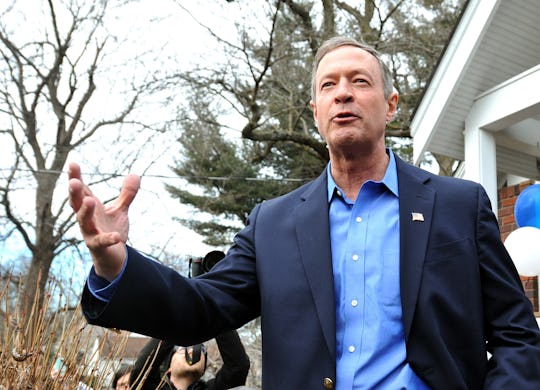 Steve Pope/Getty Images News
Martin O'Malley Suspends His Campaign During Iowa Caucus & It's Actually Really Sad
Former Maryland Gov. Martin O'Malley will suspend his campaign for the presidential nomination after the Iowa caucuses, ABC reported on Monday night. That leaves just Former Secretary of State Hillary Clinton and Vermont Sen. Bernie Sanders vying for the Democratic nomination. O'Malley was left with little choice but to drop out of the election after CNN reported he didn't pass the "viability test" in any of the Democratic caucuses.
A source close to O'Malley told The Washington Post the long-shot candidate "ran an energetic and honorable campaign." However, that wasn't enough to sway a significant enough number of voters. As Hugh Espey, executive director of Iowa Citizens for Community Improvement, told Democracy Now, the policy in the Iowa caucuses is that a candidate needs support from at least 15 percent of voters per caucus to be "viable." Espey explained, "If you don't meet that viability test, then you either split up and you go to another candidate or you can abstain."
That presented an interesting opportunity for O'Malley: He could have encouraged his supports to shift their support to another candidate, which would have given Clinton or Sanders an extremely helpful boost. However, speaking to Politico's "Off Message" podcast before the caucuses, O'Malley declined to endorse anyone else. He also foreshadowed his campaign suspension:
I'm caucusing for you and if we are not viable, I'm going home… This is a democratic process, people make their own free choices, but it's my sense… there's not a whole lot of enthusiasm going into the second [round] for the other two.
USA Today noted that O'Malley was at a disadvantage because his campaign lacked the funding that Clinton and Sanders enjoyed. He also cast himself as a "new generation of leadership," but that didn't connect with the voters in the ways that Clinton and Sanders' platforms have. Larry Sabato, director of the University of Virginia's Center for Politics, said of O'Malley on Sunday, "He never found a lane that really made any sense... He never found an issue that propelled him forward."
O'Malley is expected to formally end his campaign during a speech in Iowa tonight.