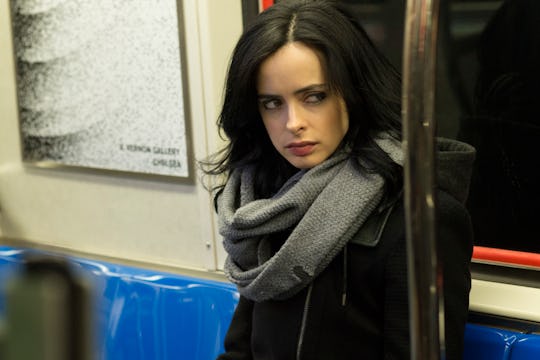 Myles Aronowitz/Netflix
Marvel's 'Jessica Jones' Renewed For A Second Season & There's Even More Badassery On The Horizon
Strap in, folks, because Jessica Jones isn't through with you yet. On Sunday, subscription streaming service Netflix announced that it had renewed Marvel series Jessica Jones for a second season, giving fans of the dark horse comic plenty of reason to rejoice. After such a stellar first season (actress Krystin Ritter even nabbed a Critic's Choice nomination for her performance as the series' eponymous lead character), devoted followers are over the moon.
The series follows the life of fictional comic book character Jessica Jones, a one-time hero with super-human strength (and the ability to fly — or as Jones calls it, "controlled falling"). After a brief stint as one of the good guys, Jones' relationship with the superhero life begins to sour following a traumatic experience, forcing her to rebuild her life as a private investigator in New York City.
Following season one's heart-stopping finale, in which — spoilers! — Jones killed her greatest enemy, Kilgrave (a cold-blooded villain with the ability to control minds), Marvel Head of TV Jeph Loeb explained that things would likely get even trickier for Jones.
"One of the things that we absolutely know is that all of the things that have happened to her aren't going to magically go away," Loeb said, during a Television Critics Association's press tour in Pasadena, California on Sunday. "[Kilgrave was] the reason why she got up every day ... the reason why she went out in the world, and it really gave her a purpose. I don't think the past trauma just goes away with his death — I think her headspace is really complex."
Jones has thus far been lauded by critics as a both compelling and entirely and unapologetically feminist in the best sense of the word. "In the world of Marvel Comics, a female antihero—a female anything—is a step forward ... a rape survivor, struggling with P.T.S.D., is a genuine leap," The New Yorker's Emily Nussbaum wrote in a review of the Netflix series last December. "In a genre format that is often reflexively juvenile about sexuality, "Jessica Jones" is distinctly adult, an allegory that is unafraid of ugliness."
Although the streaming service has yet to announce an official air date for the second season, between Jessica Jones and a host of other addictive series, such as Orange is the New Black and House of Cards, viewers can count on another thrilling year of online television — just make sure you don't watch it all in one sitting.
Images: Myles Aronowitz/Netflix