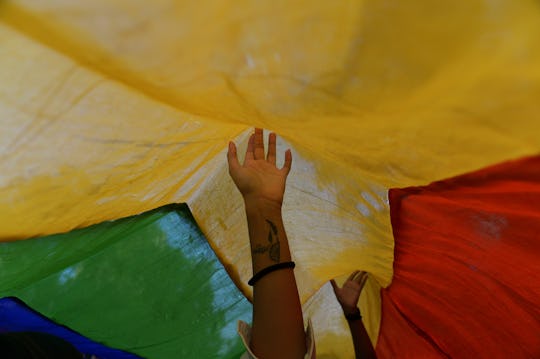 SAJJAD HUSSAIN/AFP/Getty Images
Massachusetts' Transgender Protection Bill Is A Huge Step In The Right Direction
In 2004, Massachusetts became the first state to legalize same-sex marriages. More than a decade later, in 2015, the United State Supreme Court ruled that Massachusetts' progressive stance would become federal law. But in 2016, conservative states have been attacking the rights of another group of people who identify with one letter of the LGBTQ acronym in particular: transgender individuals. Both North Carolina and Mississippi have recently passed laws barring transgender people from using the public restrooms of the sex that aligns with their gender identities, and lawmakers in North Dakota and Tennessee attempted to pass similar legislation. Massachusetts is above that the dangerous, discriminative trend once again. Having passed in the state senate Thursday, Massachusetts' transgender protection bill is a huge step in the right direction.
The bill — which would protect people who identify as a gender other than the one assigned to them at birth from discrimination in public places like movies theaters, bars, malls, and, yes, bathrooms (so they can, you know, just live their lives like anyone else) — passed with a whopping vote of 33-4. The legislation is slated to win in the House as well, and even the state's Republican governor, Charlie Baker, has indicated that he won't veto the bill if (and when) it reaches his desk.
The bill updates Massachusetts' existing anti-discrimination law, and emphasizes the right of transgender people to use the restrooms, locker rooms, and changing rooms that match their gender identity, The Boston Globe reported. It also has some passionate supporters in the Senate, who last month hosted a Transgender Visibility Panel to raise awareness.
Panelists included a member of the Harvard swim team and a veteran and retired firefighter, both trans. "People need to realize that being trans is just another human experience," Schuyler Bailar, the Harvard swimmer, said at the event.
That trans people are people, not predators, is a truth that opponents of the equality and dignity that bills like Massachusetts' provide — and that codified discrimination like what's going on in North Carolina actively denies — do not accept. "The 'bathroom bill' will force women to undress or shower in the presence of men," Massachusetts Family Institute president Andrew Beckwith told Reuters. "This violates a fundamental right to personal privacy."
But BuzzFeed reported that just 17 states and 225 cities have protections similar to the ones that Massachusetts is on the verge of passing, and there are zero reported incidents of a transgender person (or anyone posing as a transgender person) using restrooms or locker rooms for anything but doing their business. Riddle me that, Andrew Beckwith (and Ted Cruz. Ugh).
Although Texas Sen. Ted "My Presidential Bid is Over" Cruz maintains the offensive idea that a trans person is the equivalent of Donald Trump in a women's pantsuit, Massachusetts is home to lots of supporters of the Senate's decision, and they're voicing their approval on social media using the #TransBillMA hashtag.
At the Senate hearing today, which was broadcast online via livestream, state Sen. Sonia Chang-Díaz, the bill's prime sponsor, said that being civil rights pioneers is in Massachusetts' DNA. "In excluding transgender members of the community from discrimination protections," she said, "we have relegated them to second-class status."
As some state lawmakers are clearly striving to make transgender people the nefarious "other," it's refreshing to see political leaders in Massachusetts recognize that everyone deserves to feel safe and respected wherever they go. As more and more legislators seem to be revving up for the ongoing fight over transgender rights, the country will undoubtedly be a more inclusive and welcoming place for all of us if they heed Massachusetts' example.