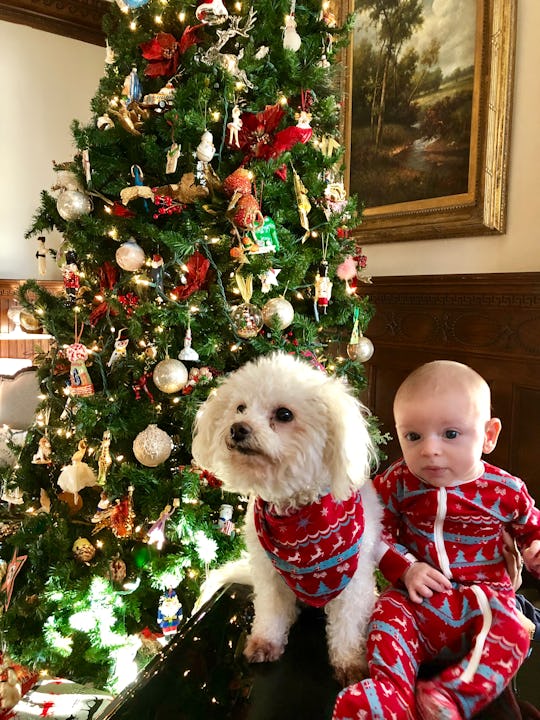 Photo courtesy of Meaghan Marks
The Most Important Reason To Get Matching Christmas Jammies
A quick search on Google for "family matching Christmas pajamas" yields 20.8 million results. Jessica Alba, J-Lo, and Oprah are on board, but there are still some holdouts! If you're one of them, it's time to stop the whining and click "add to cart" already, because holiday pajamas are the best damn part of the season and they're here to stay until at least mid-January when you finally take down your tree (just me?).
Last Christmas, my son was only 2 months old and the holiday season was more of a "let's just get our sleep-deprived selves through this, I half-assed the gifts and also please don't breathe on my newborn" kind of celebration. Still, I couldn't resist buying him the cutest Christmas pajamas and a matching bandana for my dog, the OG Christmas Jammies baby. He wore them until February when they would no longer zip over his little potbelly, and those dancing reindeer brought me joy every single day.
This year, we're doubling down on holiday pajamas for the whole family. At 14 months, my son is a walking, talking little bundle of adorable Christmas cheer and has a rotation of pajamas for every occasion. He has a red-and-white striped pair to match our dog again if he's feeling a little Elf-like. There's the fleece footie pair with Santa heads for when he's in the mood to be cozy and kiss up to the big guy. The grand finale is a classic green tartan two-piece flannel set that sort of makes him look like Hugh Hefner (still on the hunt for baby smoking slippers). He matches not only my husband and me, but also his grandparents, aunts, uncles and baby cousin. Cue a zillion photos for the 'gram.
Each time I look at a photo from Christmases past and see my family in our coordinated jim jams, a moment from that holiday season pops into my head.
Sure, it's a little excessive to have three different pairs of holiday pajamas for the three weeks between Thanksgiving and Christmas this year. But the holidays are all about making memories, and pajama patterns are part of that magic. Each time I look at a photo from Christmases past and see my family in our coordinated jim jams, a moment from that holiday season pops into my head. The year we all wore bright red onesies with foxes on them? That was the first year I was dating my now-husband and had to endure endless questions from the grandparents about when we would get engaged. (See, Grandma? It all worked out!) The year we donned penguin-patterned pajama pants? The Christmas we stayed in those pajamas all day, straight through dinner, and laughed until we cried while playing Speak Out. The year my newborn and dog wore those reindeer jams? The year we were exhausted, overwhelmed and beyond overjoyed that we had a new little one to create Christmas memories with. Oh, and coffee. I remember lots of coffee.
When I look back at this year's plaid PJ photos, I hope I remember to congratulate myself and my husband on surviving the first year of parenthood. We endured sleep deprivation, projectile vomit, a case of hand/foot/mouth, first fevers, first teeth, first words and first steps. Our relationship was tested and strengthened in ways we never could have predicted, and there's no better time to celebrate our growing little family than during the holiday season, surrounded by the people we love most.
It's not too late to force even the Grinchiest of relatives into family pajama land this year — sales abound everywhere from Old Navy and Hanna Andersson to Land's End and Burt's Bees on matchie-matchies for everyone. So as you finalize presents, deck the halls, roast those chestnuts and question whether you'll look as good as J-Lo and A-Rod in form-fitting holiday leggings, just remember that the memories behind the pajamas are way more important than the pajamas themselves. And above all, keep this in mind: if they're good enough for Oprah, they're good enough for you.
For more pieces like this, visit Shiny Happies, our collection of the best parts of raising those little people you love.