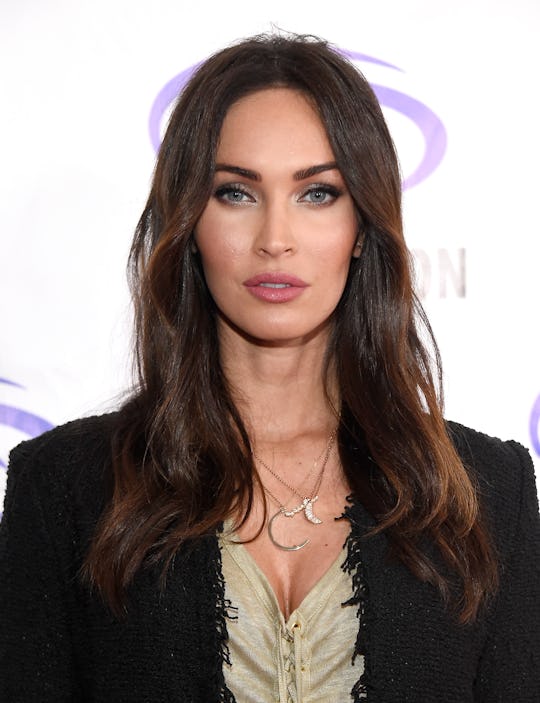 Frazer Harrison/Getty Images Entertainment/Getty Images
Megan Fox's Best Parenting Instagrams Show How Much She Loves Motherhood
Baby No. 3 is apparently on the way for actress Megan Fox. The 29-year-old Teenage Mutant Ninja Turtles: Out Of The Shadows actress was seen promoting the new film in Las Vegas at CinemaCon with a noticeable pregnancy bump. The exciting pregnancy news comes months after reports about the actress filed for divorce from her husband and actor Brian Austin Green back in August 2015. And, while Fox hasn't directly commented on a third pregnancy yet, she sure has talked about parenting and her parenting style, which fans can sometimes see through Fox's best parenting Instagram photos, and read about in her interviews. In an interview with E!, Fox opened up about a few of her parental decisions surrounding screen time for her sons, she has with Green, Noah, 3, and Bodhi, 2.
"Noah is too young and I try to keep them from television and movies for the most part," Fox told E!. "I think any sort of screen—whether it's television, iPad or iPhone — is really bad for their brain development so I try to remove that from their lives and I also want to deter them from ever being on social media because I think it's detrimental to a child's self-esteem. I have lots of opinions on this."
Fox is all about lifting her sons up to give them the world. "I will give you roots and I will give you wings," the actress wrote in the caption of the above photo.
And she isn't afraid to show her kids off sometimes. She captioned the above image with, "Hearbreaker."
Back in 2014, E! captured an interview Fox had with Parents, on how raising children has changed her life.
"Even during my [first] pregnancy, I had no idea how worried I was going to be for the rest of my life. From the moment I gave birth to Noah, that was the first time I was like, 'I love something so much that I will never be the same again.' I will never be relaxed again because I will always be worried about him and hoping that he is ok and safe and happy."
And it's pretty clear they are happy kids. She captioned the above photo: "Bodhi: Stunner. Clown. Unicorn."
Fox seems to have confirmed pregnancy rumors with a bit of Instagram humor, by posting a photo with actors, Shia LaBeouf, Jake Johnson, and Will Arnett, claiming they are "#notthefather." But when and if she's ready to confirm and share news about a third pregnancy, and what it's like to raise three children, fans will surely be reading and checking for more adorable photos on Instagram.
"Happy Easter - and I am NOT wearing a crown of thorns its a crown full of midnight quartz crystals because you know, I'm like, magic and all that," Fox wrote. At least she has a sense of humor through it all, which is pretty crucial, for sure.