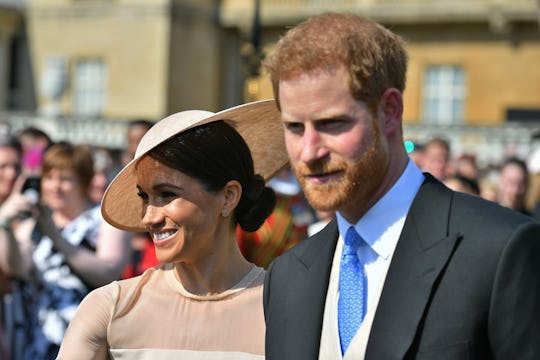 WPA Pool/Getty Images Entertainment/Getty Images
Here's Why Meghan & Harry's Future Daughters *Might* Not Inherit Their Royal Titles
It's pretty predictable that the conversation about Prince Harry, Duke of Sussex and Meghan Markle, Duchess of Sussex has shifted from their May 19 wedding to their possible future as parents. From speculation about when Meghan might conceive to fans throwing out potential baby name ideas, there's no denying the public is interested in the couple's family planning. And for those who are very knowledgable about the logistics of the royal family — especially where it concerns royal titles — there is a lot of discussion about whether Meghan and Harry's kids will inherit their royal titles. Unfortunately, Meghan and Harry's future daughters won't inherit their royal titles — a rule that some people might find a bit archaic. The good news is there's possibility this rule could change in the coming years, according to Elle.
Although it's unfair to put pressure on Meghan and Harry to have children (can't the couple just enjoy being married for now?), it's no secret that they want to have kids one day. "I've longed for kids since I was very, very young," Harry admitted in a 2012 interview, according to Us Weekly. And in March 2018, Meghan strongly hinted at the possibility of having kids down the line. At an event in Ireland featuring local entrepreneurs, Meghan said about a product line for babies, according to People: "I'm sure at some point we'll need the whole thing, it's very sweet."
Yep, I think it's safe to say that Meghan and Harry are considering becoming parents — a fact that raises a lot of questions. For instance, will Meghan and Harry's children inherit the royal titles they received at their May 19 wedding? In case you forgot, the Queen of the United Kingdom made Harry and Meghan the Duke and Duchess of Sussex.
Unfortunately, Meghan and Harry's future daughters won't receive their parents' royal titles thanks to a longstanding rule determined by the peerage system in the United Kingdom. Essentially, the rules of peerage dictates who receives titles and who does not. Only sons born to Meghan and Harry can receive the title of Duke based on this system, according to People, while any daughters born to them can't receive royal titles. The rule seems quite unfair and pretty nonsensical, right?
Luckily, history demonstrates that this rule could change. Just two years before Princess Charlotte of Cambridge made her debut in May 2015, the Queen changed the rule dictating that she would not receive the title of princess. Prior to the change, only males born to Prince William, Duke of Cambridge and Catherine, Duchess of Cambridge could receive a royal title. "All the children of the eldest son of the Prince of Wales should enjoy the style, title and attribute of Royal Highness with the titular dignity of Prince or Princess prefixed to their Christian names," the new rule stated, according to PureWow. Props to the Queen for stepping in to guarantee Princess Charlotte got her due.
Additionally, the Succession to the Crown Act 2013 is further proof that Meghan and Harry's future daughters *might* receive royal titles one day. The rule states that birth order determines the line of succession as opposed to one's sex. In the past, royal males held precedence over royal females. Thanks to the Succession to the Crown Act, however, Princess Charlotte is 4th in line to the British throne, while her baby brother, Prince Louis of Cambridge is 5th in line, according to The Telegraph.
In short, it's possible that the peerage system will undergo some changes before Meghan and Harry have kids. And it's safe to say many people would champion the peerage system's makeover — especially Meghan. "I am proud to be a woman and a feminist," Meghan states on the royal family's website, according to The Washington Post.
So, here's to hoping the peerage system changes how it treats sons versus daughters. It's about time every person in the royal family is viewed equally.