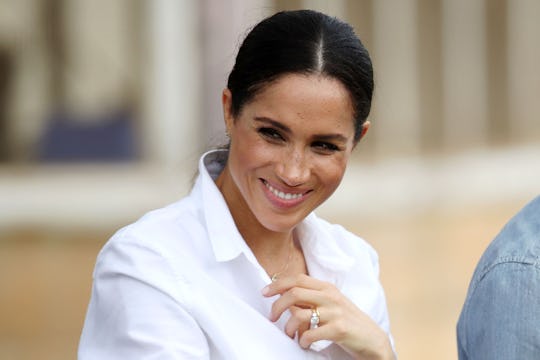 Chris Jackson/Getty Images Entertainment/Getty Images
Meghan Markle Just Gave Us Another Reason To Love Her (Hint: It Involves Banana Bread)
Meghan, the Duchess of Sussex, is currently in Australia on her first major overseas tour with her husband, Prince Harry, and while that in itself is pretty big news, it's become especially exciting given that the couple recently announced that they are expecting their first child together. The pregnancy only seems to have heightened the already-existing Meghan Mania, but just in case anyone was unconvinced that the duchess is worthy of the world's adoration, she just made one particularly endearing gesture. Meghan Markle baked an impromptu banana bread in Australia that was served at one of her scheduled royal engagements, and honestly, is there anything she can't do?
The Daily Mail's royal correspondent, Rebecca English, has been covering the duke and duchess' overseas tour, and on Twitter Tuesday (Wednesday in Australia), she shared updates from Harry and Meghan's trip to a farm in Dubbo, Australia, where the Sussexes were set to have lunch with a local farming family. The visit was meant to raise awareness of the impact of a regional drought on rural farming, but since the newlyweds are just so gosh darn adorable, it also made from some seriously cute photo ops.
The plan for the lunch was to have an informal, picnic-style meal, according to the Daily Mail, and it seemed to have inspired Meghan to whip up her own version of the baked treat, which included "chocolate chips and a touch of ginger."
Although it's no surprise that the offering was said to be a big hit among the guests, it is actually quite surprising that she decided to bring it in the first place. For one, it's certainly not a common occurrence for royals to show up to events with homemade baked goods. But then consider that Meghan also happens to reportedly be four months pregnant, according to Hello! Magazine, has a jam-packed schedule, and is likely majorly jet lagged due to the time difference between England and Australia, and it definitely seems impressive.
English tweeted that the duchess baked the treat the night before in the kitchen of Admiralty House, the Australian Governor-General's mansion in Sydney where the couple are staying during their visit. A royal aide reportedly called the move a "spur of the moment" decision, according to the Daily Mail, but in addition to being quite thoughtful, it also seemed pretty fitting given what appears to be Meghan's love of food and cooking.
As fans of the newly-minted duchess will know, long before Meghan met Prince Harry, the former Suits actress was also a lifestyle blogger who, among other things, often shared recipes with her followers. And then there's also the fact that, in their first-ever television interview together following their engagement, Meghan and Harry revealed that they spent a lot of time at their Kensington Palace cottage making homemade meals — the prince even proposed over a dinner of roast chicken.
It's not clear if Meghan's banana bread recipe was one she ever shared on her site, The Tig, and unfortunately, she opted to shut it down in 2017, unofficially due to her budding relationship with Prince Harry. But thanks to internet archive site The Wayback Machine, some of her recipes are still available, and it looks pretty clear that in addition to being a talented actress and a humanitarian, Meghan is also quite the whiz in the kitchen.
In 2015, for example, she shared a particularly delicious-looking how-to for "Chocolate Petit Gateaux" — aka individual chocolate cakes with "gooey" centers — baked in ramekins. But in addition to the instructions, she also shared some of her thoughts on baking and dessert.
For one, Meghan admitted that, actually, baking in general wasn't necessarily her favorite thing: she wrote that "the technicality of it ... stifles [her] inner rebel," and that the treat in question "needs to be worth it" if she's going to roll up her sleeves. In other words? Her Australian guests should probably feel particularly special that she brought them baked goods — especially since it sounds like she was probably aiming to offer up some major comfort food. In her post, she wrote that when she decides to bake, she looks for something "soul-satisfying like a good hug on a bad day."
In addition to baking, Meghan also got her hands dirty touring the farm and helping to feed the cattle, and just generally looking lovey-dovey with Prince Harry. But although the social media consensus definitely appears to be widespread awe and admiration, Meghan did make a point to admit that she's not actually Superwoman: English quoted the duchess as saying she was really just "running on adrenaline."
Given Meghan's pregnancy — and the fact that she still has a lot ahead of her, schedule-wise — hopefully she'll have a chance to properly rest, and that she won't feel too overwhelmed. But either way, it's clear that the duchess is totally killing it on her first major overseas tour, and back home, the Queen is likely just as impressed as the rest of us.