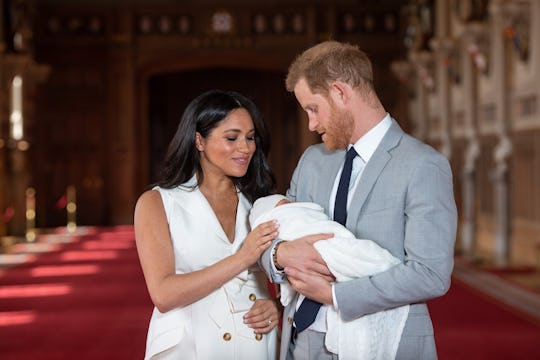 WPA Pool/Getty Images Entertainment/Getty Images
Meghan Markle Shared A New Photo Of Archie For Mother's Day
It's barely been a week since the birth of the long-awaited royal baby and the Duchess of Sussex already seems to be enjoying her newfound journey into motherhood. The royal couple shared a social media post today of Meghan Markle celebrating her first Mother's Day as a new mom to Archie, with a heart-warming photo of the both of them on the couple's Instagram account.
The photo, a snapshot of Markle cradling baby Archie against a field of blue flowers, was a tribute to all mothers celebrating the holiday today. "Paying tribute to all mothers today - past, present, mothers-to-be, and those lost but forever remembered," the post begins. "We honor and celebrate each and every one of you."
Today marks the first Mother's Day that the Duchess of Sussex will be celebrating as a mother herself. While Markle missed Mother's Day in the U.K., which is celebrated on March 22, she welcomed baby Archie just in time to celebrate Mother's Day in the U.S. Her and Prince Harry's newborn son, Archie Harrison Mountbatten-Windsor, arrived early morning on May 6, much to the couple's delight. The two have since opened up about being new parents in interviews with the press.
The glowing couple first shared their newborn with the world just two days after baby Archie's birth. Markle said that motherhood was "magic," and even described her son's personality. "It's pretty amazing!," she told reporters. "He's calm, he's just been a dream."
Prince Harry was no less delighted with the arrival of his first heir. Shortly after the royal family announced the birth of Archie, Prince Harry was beaming with pride in front of the cameras over his wife and newborn. "I'm so incredibly proud of my wife," Harry, who was by his wife's side during the birthing process, said in a TV interview. "As every father and parent would ever say, your baby is absolutely amazing, but this little thing is absolutely to die for so I'm just over the moon."
He also didn't hold back praise for mothers everywhere, saying, "How any woman does what they do is beyond comprehension."
Now, the couple's Instagram has kicked off Mother's Day with a photo not only shows off the close bond between mother and son, but one that also pays homage to Prince Harry's late mother, Princess Diana. The image, which PEOPLE noted was taken at the Duchess' new Frogmore Cottage home in Windsor, features late Princess Diana's favorite forget-me-not flowers in the background.
This isn't the first time the Duke of Sussex has payed homage to his mother. In the past, Prince Harry has honored her memory by choosing those same flowers for Meghan Markle's bridal bouquet.
"Prince Harry handpicked several flowers yesterday from their private garden at Kensington Palace to add to the bespoke bridal bouquet designed by florist Philippa Craddock," read a statement from Kensington Palace at the time. "The spring blooms include Forget-Me-Nots which were Diana, Princess of Wales' favorite flower. The couple specifically chose them to be included in Ms. Markle's bouquet to honor the memory of the late Princess on this special day."
Now, the couple and their new baby is celebrating their first Mother's Day together, and surely Princes Diana's memory was present as well.