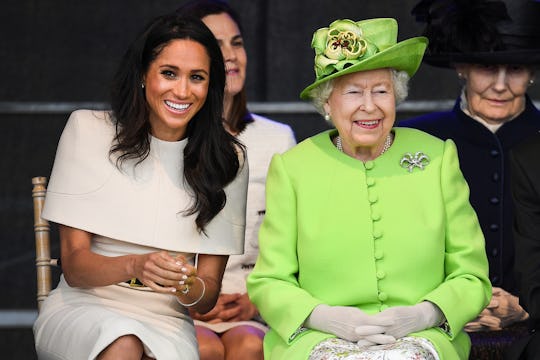 Jeff J Mitchell/Getty Images Entertainment/Getty Images
The Queen Is Passing On One Of Her Royal Duties To Meghan Markle
While Meghan Markle being a total boss lady isn't particularly new information, it's pretty exciting to learn about her new responsibilities now that she's a fully immersed member of the royal family. And now, according to a new report, Meghan Markle has a new royal job and it's something that used to be done by the queen herself, because there's just no denying that Markle Sparkle, is there? Just over a month after Markle married Prince Harry and officially became the Duchess of Sussex, the new royal is clearly diving right into her duties.
In addition to attending events, and even going on a solo outing with Queen Elizabeth II recently, Markle has also reportedly just been given a new role in the royal family. According to Express, both Markle and her husband, Prince Harry, will formally welcome participants of the "Queen's Young Leaders programme to Buckingham Palace" during the summer, which is something the queen herself has done in years past.
The program reportedly started four years ago, according to Express, and the queen has thoroughly enjoyed welcoming the youngsters to the palace over the summer. But, as the responsibility was handed over to her grandson in April, according to the Daily Mail, both the Duke and Duchess of Sussex will be working together on the Queen's Young Leaders program.
So, what exactly is the program that Prince Harry and Markle will be working on? Well, according to the official Queen's Young Leaders website, it all started in 2014 when "a search was launched to find exceptional young people to receive the first ever Queen's Young Leaders Awards." Basically, the program works to find young people who are doing great work all over the British Commonwealth. As noted on the program's website:
Hundreds of applications flooded in from incredible young people all dedicated to making lasting change in their community and beyond. The Programme is now in its fourth and final year and has formed a unique community of 240 influential change-makers, who represent 53 Commonwealth countries.
Yeah, it's kind of a big deal. And the fact that the queen has entrusted the Duke and Duchess of Sussex to do so means that the bond between Her Majesty and Markle is already strong as can be.
In case you missed it, Markle and the queen recently went on a trip together, and it was one of the duchess' first official royal engagements. Additionally, it wasn't a simple trip to a charity engagement, either. No. Markle and the queen actually took the Royal Train on an overnight trip to Cheshire, England, where they oversaw the opening of a new bridge and even watched some children's performances, according to Metro.
Markle and the queen stepped out together on June 14 and seemingly had a great time together. According to CNN, the pair opened a brand "new toll bridge over the River Mersey." Markle and Queen Elizabeth left on Wednesday, June 13, from London, taking the Royal Train and spending the night on the luxury carriage. It was a pretty far cry from the queen's first solo outing with her other grandson's wife, Kate Middleton. According to Express, Middleton's first outing alone with the queen didn't take place for almost a year after she married Prince William. Middleton went with the monarch as part of the Queen's Diamond Jubilee in March 2012, Express reported.
Of course, comparing Middleton and Markle's royal experience isn't exactly fair to them, since they're both completely different individuals and their husbands are also in completely different positions. Prince William is third in line to the throne, and will likely be the King one day. Prince Harry, on the other hand, is sixth in line and doesn't have nearly as many responsibilities as his older brother.
But when it comes Markle, it's clear that the Duchess of Sussex and Queen Elizabeth's relationship is off to a great start.