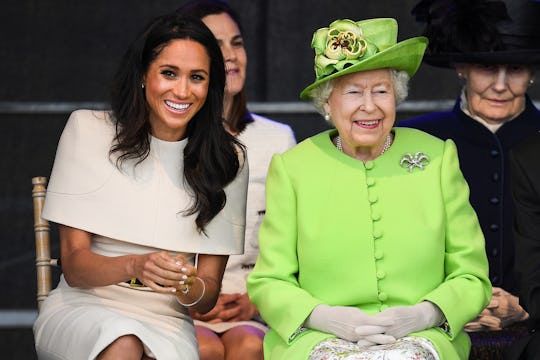 Jeff J Mitchell/Getty Images Entertainment/Getty Images
These Photos of Meghan Markle & The Queen Show They're BFFs Already
Since her marriage to Prince Harry, Meghan Markle has made a few public appearances already. For those who have been waiting eagerly to see Meghan Markle hanging out with her grandmother-in-law, wait no longer. These new photos of Meghan Markle and the Queen show they're BFFs already.
An engagement obviously means meeting your partner's family, especially if they're reigning royalty. Before Prince Harry could propose to Meghan Markle, tradition dictated that he needed to have the Queen's formal consent. According to Us Weekly, Markle originally met the Queen in 2017. The outlet reports that it took Kate Middleton five years to have a face to face conversation with the Queen. So it seems that Prince Harry wasn't wasting any time in sorting out all the necessary introductions so he could pop the big question.
Although a source told Us Weekly that Markle was a "little nervous" about meeting the Queen (who wouldn't be?), their introduction went well. In Prince Harry and Markle's post engagement video, Markle said about her meeting, "When I met [the Queen] I had such a deep understanding and, of course, incredible respect for being able to have that time with her, and she's an incredible woman."
Meeting the Queen with other people present is completely different from a solo outing. Queen Elizabeth recently invited the new Duchess of Sussex along on an outing to Chesire, which is about 200 miles from London. They took the trip by train — a form of travel that's favored for allowing the Queen and other senior royals to work and relax en route, according to People. Part of the trip's purpose was to open a new troll bridge over the River Mersey, CNN reported.
The trip, however, also helped people get a better idea of the Queen and Markle's relationship — and it seems to be going well! The wait to see the Queen and Markle on a solo outing might have seemed long, but much like Markle's first meeting with the Queen, it actually happened pretty quickly. As Harper's Bazaaar reported, Kate Middleton had been married to Prince William for about a year before her first solo outing with the Queen, where Markle has only been an official member of the royal family for less than a month.
Maybe, though, the Queen decided to speed things up a bit after riding solo with Markle's dog, Guy. Dog people do have a way of finding and bonding quickly with each other and there's no doubt about it: the Queen is a dog person.
The Queen has owned corgis since she was 18. Her dog, Susan, actually began the line of corgis that people most associate with the Queen. And although that line has died out with the Queen's last dog, Willow, nothing can change that the Queen is clearly a dog lover at heart.
In their post engagement video, Prince Harry and Meghan Markle joked about how much the Queen's corgis loved her. "The corgis took to you straight away. For the last thirty three years, I've been barked at, and this one walks in, absolutely nothing, just wagging tails," Harry laughingly reflected.
It makes sense that the corgis took to Markle so quickly, though. Before moving to the United Kingdom, Markle had two of her own: Bogart and Guy. As noted by The Guardian, Bogart was too old to make the trip (he ended up staying with a friend of Markle's), but Guy came right along. As a beagle, Guy is a little different from the usual dogs seen with the royal family and the Queen herself, but a dog is a dog, right?
No one will ever know for sure what conversations take up the Queen's and Markle's time, but hopefully their shared love for animals is one.