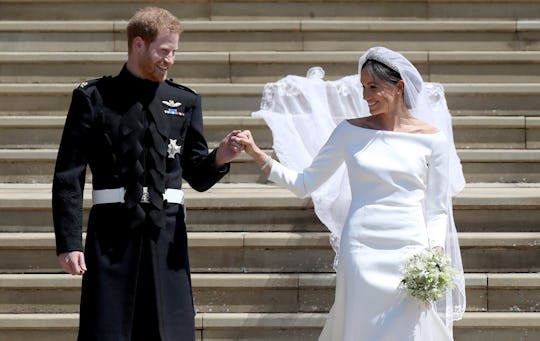 WPA Pool/Getty Images Entertainment/Getty Images
Meghan Markle Is Making A Short But Sweet TV Comeback In The Near Future
Most people on the planet know Meghan Markle as the Duchess of Sussex these days, married to the Duke of Sussex (or Prince Harry as he's more popularly known), and newest member of the royal family. But there was a time when she was best known as a television actress and lifestyle blogger for her site, The Tig. It feels like it's been ages since her fans have really heard her speak or seen her on TV, but it looks like the drought is nearly over. Meghan Markle is coming back to TV, and even better? It looks like she'll be dishing on the royal wedding. Or at the very least, talking about it since I don't really know what "dishing" actually entails.
According to People, British television broadcasting company ITV will be airing a two-part special about the life of Queen Elizabeth as pertains to her role in the Commonwealth in September called Queen Of The World. A palace source told the media outlet that members of the royal family will be giving different levels of interviews for the special, with Markle giving a "conversation, a stand-up chat" for the film. She's expected to be joined by Prince Harry during this interview. Oh yes, and she's also expected to talk about her amazing wedding dress, which was designed by Claire Wright Keller for Givenchy, and the royal wedding and yes, now I'm terribly excited.
Markle has been careful not to give interviews since marrying Prince Harry on May 19 at St. George's Chapel in Windsor Castle. The former Suits actress actually went ahead and deleted all of her social media accounts prior to the couple's engagement announcement last November, including her Instagram account. Which must have felt awfully strange as an actress who had always had a pretty solid social media presence. She also shut down The Tig after three years with a lovely message to her followers, entitled "Farewell, darling;"
After close to three beautiful years on this adventure with you, it's time to say goodbye to The Tig. What began as a passion project (my little engine that could) evolved into an amazing community of inspiration, support, fun and frivolity. You've made my days brighter and filled this experience with so much joy. Keep finding those Tig moments of discovery, keep laughing and taking risks, and keep being "the change you wish to see in the world." Above all, don't ever forget your worth - as I've told you time and time again: you, my sweet friend, you are enough.
Now Markle will be back to share her wisdom and (hopefully) a fair few tidbits about what her new life as a Duchess looks like. ITV shared in a recent press release that Markle will be discussing "her wedding dress and her early interactions with the Commonwealth, which means so much to her grandmother-in-law." The Duchess of Sussex will have the opportunity to really get to know more about the some parts of the Commonwealth when she and Prince Harry embark on their tour of Australia, New Zealand, and the islands of the Tonga and Figi in the coming months.
It's their first official royal tour overseas, and I'm already excited about her outfits. Plus all of the other important things I should care about, I guess. Mostly though, I think fans will probably be pretty excited to see Meghan Markle on their television screens actually talking again. For the first time since the royal wedding. Not to pry, but to maybe get a little behind-the-scenes look at how her life has changed in the last few months.
I mean, if she really wanted to show us her closet.... I guess I would be okay with that.