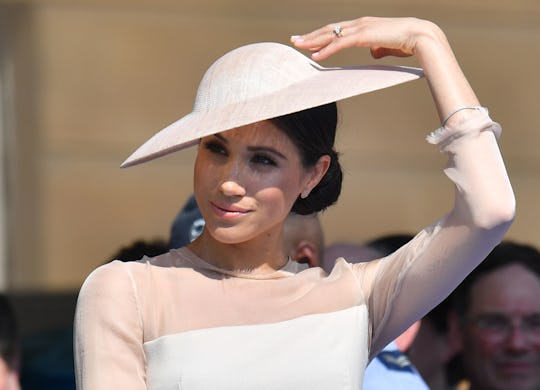 WPA Pool/Getty Images Entertainment/Getty Images
Meghan Markle Just Got A New Title, & It's So Well-Deserved
Even though Meghan Markle, Duchess of Sussex has been in the public eye for years, her fame massively skyrocketed ever since she and Prince Harry, Duke of Sussex got engaged. Not only is she a successful actress, but she has always used her platform for good, donating her time to charities all over the world. Plus, she is already using her royal status to give back even more. Therefore, it's no surprise that Vogue UK named Meghan Markle one of the most influential women working in Britain of 2018.
The list, being called the Vogue 25, is the first of Vogue's new annual tradition. The Vogue 25 specifically aims to honor women who were inspiring this year, which is why women like Queen Elizabeth II did not make the cut (sorry, Lizzie!). Considering Meghan's skyrocket to fame and relocation to Britain over the past few months, she was a natural choice for the list.
In Meghan's blurb, Vogue (a fashion magazine, after all) explained that while Meghan's style was almost enough to clinch her a spot on the list, she has made impacts in endless other ways. "As a bi-racial campaigning feminist from America, she is helping to forge a new 21st-century identity for the monarchy," Vogue wrote. The magazine also noted that the Duchess has become one of the most recognizable women in the world, and that she "captured the public imagination like no other this year."
In case you are not familiar with the Duchess' accomplishments thus far, here are a few. At just 11 years old, Meghan fought against a dish soap company's sexist advertisement. She told the story in a speech, explaining that she challenged the company by writing letters, and appearing on a children's news program. The company listened, and changed the TV commercial to be more inclusive.
While working as a lead actress in the show Suits, she ran a lifestyle blog called The Tig, on which she wrote about social issues including gender equality. From 13 to 22 years old, Meghan volunteered at a soup kitchen in her hometown of Los Angeles, according to her profile on the official royal website. She continued volunteering at soup kitchens when she moved to Toronto for Suits, and she spearheaded a program where leftover food from the show was donated to homeless shelters.
Additionally, Meghan is a charity counselor for One Young World, a forum that encourages young leaders to solve world issues; she is the UN Women's Advocate for Women's Political Participation and Leadership; and she has worked with World Vision to raise awareness of the importance of education for young girls. And since becoming engaged to Prince Harry, Meghan has continued her advocacy work. She is to be named a Patron of the The Royal Foundation Forum, which she has already gotten involved with, and she has visited various organizations all over the United Kingdom, according to the royal website.
Additionally, Meghan's charitable side was evident when she and Harry announced their policy regarding royal wedding gifts. In lieu of presents, the couple asked for donations to seven different charities that are close to their hearts.
And the Duchess is in good company on the list of impressive women. Other women to make the cut include J.K. Rowling, Dua Lipa, Amal Clooney, Sinead Burke, Hannah Anderson, Ruth Davidon, Orla Doherty, Letitia Wright, and Stella McCartney, who designed Meghan's wedding reception dress.
There's no doubt that Meghan will continue her advocacy as the Duchess of Sussex. It will be exciting to see what charitable organizations she works with next.