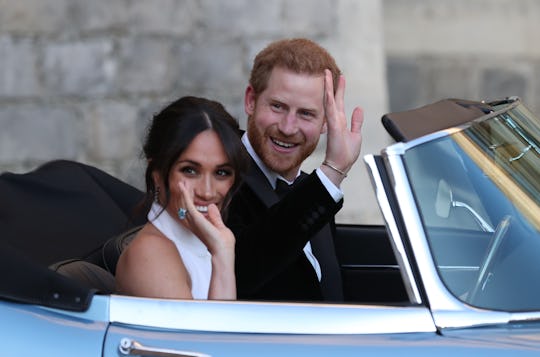 WPA Pool/Getty Images Entertainment/Getty Images
You Might've Missed This Tiny, But Telling Detail From Prince Harry & Meghan's Reception Getaway
Meghan Markle and Prince Harry's reception looks are already iconic. But a new detail from Prince Harry and Meghan Markle's reception getaway has people swooning for the couple even harder. Just in case you've somehow missed it, the Duke and Duchess of Sussex headed to their private reception at Frogmore House a few hours after taking their vows at the wedding ceremony.
Markle swapped out her Givenchy wedding gown for a slinky Stella McCartney dress and walked out of the castle with Prince Harry to get into their blue Jaguar E-Type Concept Zero to head to the party. And they looked like they came straight out of a James Bond movie. While many people thought it was cute that Prince Harry opened the door for his bride, some eagle-eyed viewers noticed that once she was in the car, the former Suits actress leaned over and opened Prince Harry's door, too. Adorable, right?
While some people on social media thought that it showed that their marriage is all about equality, others who had grown up watching the 1993 movie A Bronx Tale were very relieved to see that she had passed "the door test." Either way, it was yet another instance in which Markle and Prince Harry were way too cute for words on their wedding day (and probably every other day).
People Were Loving It On Twitter
Just in case you're not into early '90s mob movies, "the door test" comes from A Bronx Tale in which a gangster named Sonny schools a teenage boy about how to tell if the girl he's dating is a "keeper" or not. He tells him to lock both doors before getting out the car and then after opening the door for the girl, wait and see if she unlocks his door while he walks around.
"If she doesn't reach over and lift up that button for you so you can get in, that means she's a selfish broad and all you've seen is the tip of the iceberg. You dump her and you dump her fast," Sonny tells him.
So, as you can see, it's a little sexist and a very ridiculous way to gauge a mate. I wouldn't recommend "testing" your date with it, especially in the age of automatic locks, but it was kind of cute that Markle leaned over to make sure Prince Harry could get into the car as seamlessly as possible. These two definitely have a lot of love and respect for each other.
According to some of the 200 guests that attended the reception, that love was on full display throughout the night. The Daily Mail reported that Markle read a poem to the crowd that had Prince Harry wiping tears away and that the tables were labeled with words that Americans and Brits pronounce differently such as "tomato" and "oregano," which was a very cute touch.
There was a sit-down dinner and then dancing, beer pong, custom cocktails, and even slippers passed out for women in high heels, according to Vogue. Markle's friend, Janina Gavankar, told Us Weekly that every aspect of the reception was thoughtful. She said:
As long as it's going to be public, you might as well make the best of it and show the world what you stand for together, and they did that. Even just in who they chose as musicians. They chose to include parts of both of their cultures. I love that they're not ignoring that this is an unusual moment in history, and celebrating its sweetness is something that they did.
Prince Harry and Markle really are too cute for words. And, as Markle's actions in the car show, you don't always need words to tell someone you care about them.