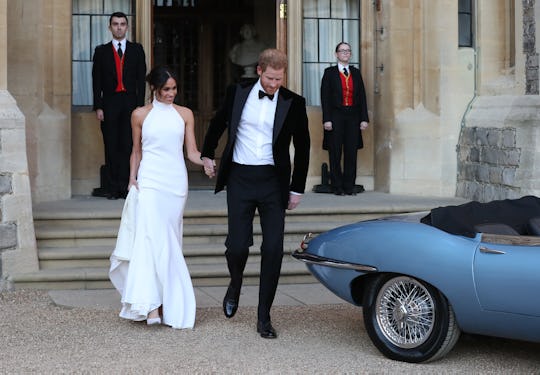 WPA Pool/Getty Images Entertainment/Getty Images
Meghan Markle & Prince Harry's Reception Getaway Car Had A Minor Detail That Is So, So Sweet
As far as weddings go, Prince Harry and Meghan Markle's was hard to beat. Every single detail was perfectly thought out and had some sort of meaning to the couple — including a license plate that you might have missed. Yup, Meghan Markle and Prince Harry's reception getaway car had a license plate that had the date of their wedding on it. These two kids really thought of everything.
After the wedding ceremony and luncheon at Windsor Castle, Harry and Meghan threw a more intimate reception at Frogmore House, just down the road, for 200 of their closest family and friends. Markle switched up her dress to a Stella McCartney silk crepe gown and Harry slipped into a tux, and they drove themselves to the party in a silver blue Jaguar E-Type Concept Zero. The car, according to the palace, was originally manufactured in 1968, but had recently been converted to electric power. It was straight out of an action movie.
So having some "Just Married" sign with tin cans hanging off the back of the car would have definitely killed their vibe. Instead, they had a vanity plate made that read: E190518, which is now their anniversary date. Adorable, right? According to People, it was legal since they were driving on castle grounds to Frogmore House and it wasn't a public road. Also, you know, they're a duke and duchess now so they can do what they want.
Check It Out.
The reception was reportedly an affair to remember, for sure. Harry's friend DJ Sam Totolee was in charge of the tunes and guest Idris Elba even stepped in for a minute. They're first song was Whitney Houston's "I Wanna Dance With Somebody" and after a sit down dinner earlier in the evening, guests were served "dirty burgers" and some other midnight snacks. Of course, there were also fireworks to commemorate the evening.
To be honest, the fireworks and house music were the only thing not lowkey about this wedding. It's definitely a sign of their personalities that the wedding planning was so subtle. Alright, I know 600 guests at Windsor Castle and a horse-drawn carriage parade isn't exactly subtle but there were so many aspects of the wedding that were kept very...quiet. Everything was really thoughtful, right down to the license plate on their car.
For example, it wasn't at Buckingham Palace like Prince William and Kate Middleton's wedding, but in the smaller chapel at Windsor Castle, which set the tone for a more understated event. Her dress, custom made from Givenchy, was so simple and classic — it could literally have been from any decade. And the veil had 53 flowers on it to represent all the countries of the Commonwealth, which basically no one would have noticed if the designer, Clare Waight Keller, hadn't included it in a statement.
The gospel choir, Kingdom Choir, did a cover of "Stand By Me," and the couple invited Bishop Michael Curry, head of the Episcopal Church in the United States, to give the sermon, breaking from royal tradition, but reenforcing the day's theme of love and inclusivity. There was an empty chair for Princess Diana in the chapel and she even wore an aquamarine ring that belonged to Harry's mom.
Even the flowers in the chapel and her bouquet were all sustainable and from "pollinator plants," lest anyone forget about colony collapse during the royal wedding. Of course, all of the white roses were also a tribute to Diana, who is so closely associated with the flowers that they're what the palace planted in the gardens in her name, according to Vanity Fair.
So when you hear people say that this young couple thought of everything, they really thought of everything. Even how to turn their badass getaway car into a sweet symbol of their commitment.