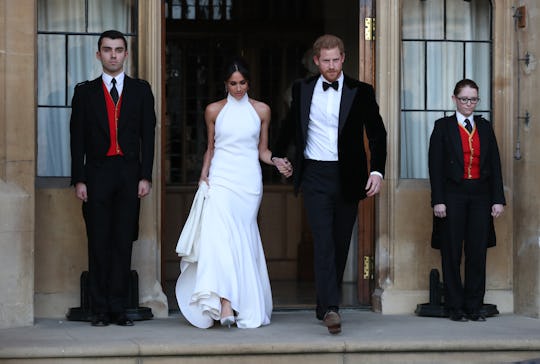 WPA Pool/Getty Images Entertainment/Getty Images
Prince Harry & Meghan Markle's First Dance Song Was Unexpected, But Very Fun
The royal wedding ceremony was absolutely breathtaking, but from what we're hearing about the reception, they really kept the best parts private. We're talking fireworks, tear jerking speeches, and of course, great music. Speaking of music, knowing that some of Harry's BFFs are DJs and on the party circuit, you're going to be floored when you hear what Prince Harry and Meghan Markle's first dance song was at their reception. It was a total banger.
So, after the wedding ceremony at St. George's Chapel at Windsor Castle with 600 of their closest friends and family, there was a luncheon at the castle. But later on in the evening, just 200 guests were invited to Frogmore House, which is just a mile away from the castle, for a more intimate party.
As you might have seen in pictures, Meghan slipped out of her custom Givenchy and put on a slinky Stella McCartney gown with a halter neckline, and accessorized it with a gorgeous emerald cut Aquamarine ring that once belonged to Princess Diana. Harry got out of his military uniform and into a tux, and they sped off to the party in a convertible Jaguar with a license plate that read, "E190518," the date of the wedding. I mean, if you pull up in Stella McCartney and a personalized Jag, you know the after party's going to be good.
According to The Telegraph, things just kept better from there. For their first dance, the couple rocked out to Whitney Houston's "I Wanna Dance With Somebody (Who Loves Me)," which quite frankly, is the best first wedding dance song I've heard of in a long while. I would pay good money for a cheeky video of Harry and Meghan jamming to that song. According to sources who attended the party, the whole playlist was made up of soul music and R&B hits, which sounds like my kind of party. Oh, and did I mention that Idris Elba had a DJ slot, too?
The party was hosted by Prince Charles and, according to The Daily Mail, included some "naughty" speeches by Prince William and Harry's friends. Meghan also gave a toast thanking the family for welcoming her into the fold. After Idris Elba and some Whitney Houston, DJ Sam Totolee took over and played "Harry's favorite house tracks." Totolee also performed at Pippa Middleton's wedding. As for food and drink, the sit down dinner at the reception was all organic and then there "dirty burgers" and other snacks later on in the evening.
There was a "drinks of the world"-themed bar that included a ginger and rum cocktail called "When Harry Met Meghan," which is equal parts charming and cheesy AF. There were fireworks at midnight that people in the surrounding town see, which was a nice touch. Afterwards, The Daily Mail reported that guests headed back to London for two after-after parties. One was at Chiltern Firehouse in Marylebone and another in a soundproofed private house in Chelsea. Oh, to have been on that invite list.
The Sun reported that Harry had guests laughing and crying at his speech, in which he said that he and his wife "make a great team" and that Meghan handled all the hoopla around the royal wedding with "grace." Another anonymous guest told Cosmopolitan that his toast was "very off-the-cuff, which was lovely."
They added, "He promised that all the Americans wouldn't steal the swords and said, 'Please, when you leave, be quiet as you don't want to wake the neighbors,' which was quite fun." The guest added that the reception felt very personal, private, and all about the couple, which is exactly what a wedding reception should be like.
So, basically, whatever you might have done last night was nowhere near as good as what 200 royal family members and their friends were up to. When Whitney Houston kicks the party off, it's a clear sign the night's off to a good start.