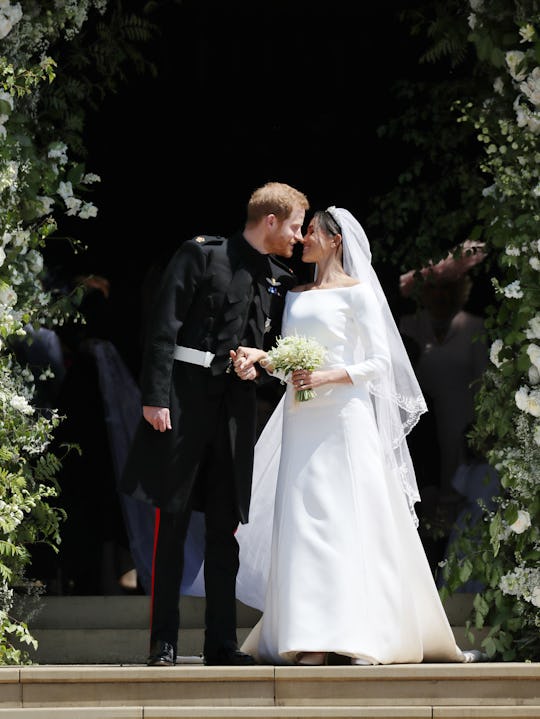 WPA Pool/Getty Images Entertainment/Getty Images
This Small Detail At The Royal Wedding Is A Beautiful Ode To Princess Diana
Prince Harry and Meghan Markle got married on Saturday, which is a statement of fact but somehow it seems too simple for the rather epic, stunning event the world witnessed. But despite the public nature of the affair, there were so many sweet and personal moments and details, including the flowers at the Royal Wedding, which were a tribute to Prince Harry's mom, Princess Diana. Sniff!
The couple enlisted the help of floral designer Philippa Craddock to create the display in St. George's Chapel at Windsor Castle. The arrangements included "branches of beech, birch and hornbeam, as well as peonies, foxgloves, and one of Diana's favorite flowers — white garden roses," reported People. If you watched the ceremony (and if you didn't, I highly recommend doing so, if spectacularly gorgeous and truly touching displays of love are your cup of tea!), you'll have noticed the stunning flowers adorning the entrance of St. George's Chapel at Windsor Castle. White roses are so strongly associated with the late Princess Diana that they were planted in Kensington Palace's White Garden as a tribute to her on the 20th anniversary of her death in 2017, according to Vanity Fair.
No, you're crying!
The wedding flowers that honored Prince Harry and his man of honor's mother were incredibly beautiful on screen ... I can only imagine what they looked like in person.
In a press release, Craddock said working with Meghan and Harry on their flower choice was "an absolute pleasure," reported People. She added:
"The process has been highly collaborative, free-flowing, creative and fun. The final designs will represent them as a couple, which I always aim to achieve in my work, with local sourcing, seasonality and sustainability being at the forefront."
Indeed, according to a press release from the Royal Family, "the floral displays were created using locally sourced foliage, much of which has been taken from the gardens and parkland of The Crown Estate and Windsor Great Park."
The statement concludes, "All of the flowers will be replanted in Kensington Gardens after the wedding for the public (and bees) to enjoy." Which, I mean, how lovely!
It's of course no surprise that Prince Harry and his bride choose to honor Princess Diana at the wedding. The groom has always been vocal and open about his love for his mother, even sharing that he knows she would have loved her daughter-in-law. "Oh they'd be thick as thieves, without question," he said of his mom and Meghan, during his engagement interview, according to E! Online. "I think she would be over the moon, jumping up and down, you know so excited for me, but then, as I said, would have probably been best friends — best friends with Meghan."
He also added that it's "days like today when .... I really miss having her around and miss being able to share the happy news."
So bittersweet, a feeling that anyone whose ever lost someone beloved can relate to ... every happy moment forever contains within it that ache of loss. The couple did seem to take some comfort in the fact that Meghan's engagement ring, which Harry designed himself, is another tie to Princess Diana, as he shared in the same interview:
"The ring is obviously yellow gold because that's [Markle's] favorite and the main stone itself I sourced from Botswana and the little diamonds either side are from my mother's jewelry collection, to make sure that she's with us on this crazy journey together."
A crazy journey indeed .... any wedding is the start of a new adventure together, and it's hard to imagine how much more "crazy" things feel when you live in the public eye. But though they may be a little short on privacy, on thing this couple is in no way lacking is love. And, from one mom to another, I am sure that Princess Diana would be overjoyed at her son's happiness.