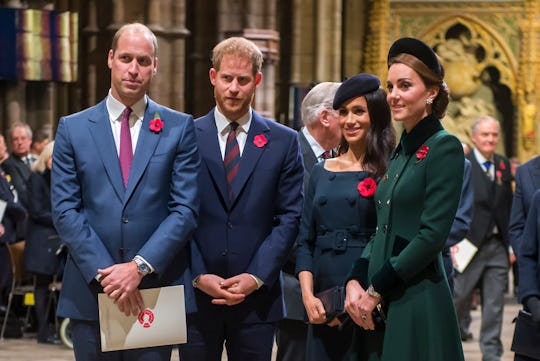 WPA Pool/Getty Images News/Getty Images
Meghan Markle & Kate Middleton's Reported Royal Group Chat Is The Best Idea Ever
The internet loves to break all of the special things, I think. Fans were allowed a few glorious months of enjoying the royal wedding of Prince Harry and Meghan Markle. Fans were also allowed the freedom to imagine the burgeoning friendship and bond between the newly married couple and the Cambridge family, Prince Harry's brother Prince William and Kate Middleton. But then the internet decided that was enough fun, thank you very much, and set about ruining people's hopes and dreams. Well, I'm here to tell you the internet doesn't know everything. Because Middleton and Markle reportedly have a royal group chat with their husbands, so I think that means it's a round of poop emojis for the rumor mill. Prayer hands, heart eyes, I couldn't be happier.
That being said, the group chat news is via a royal source so it could definitely also be considered a rumor if you wanted to be that person. But why don't we choose to be the people who are more willing to embrace the concept that these two brothers, who have already suffered the incredibly tragic and unbearably public loss of their mother in their teens, have met two women they love and the four of them are now happy? That they're very much their own people but are also friendly and close enough to hang out the way many modern families prefer to hang out, via a family text chain?
A royal source told Us Weekly that the Fab Four are all part of a family text chain and there "is no fighting going on between Kate and Meghan." Instead, the two women have been slowly getting to know each other:
Kate is lovely. She's British, she's reserved. You have to break through that armor. Kate doesn't warm up to people too quickly. It takes some time for her to become comfortable and trusting for anyone in the outside world.
As for Markle, she has reportedly been trying to wrap her head around her new life as part of the royal family. Which must be difficult for a California-born actress, after all, as the source told Us Weekly:
It took some adjusting for Meghan to get used to the protocols of the palace and the royal family. That can't be easy for anyone to get used to, especially a woman who had all the independence in the world just one year ago.
And let's not forget that Markle and Prince Harry are also expecting their first baby in the spring, another massive milestone. Oh, and they're moving into Frogmore Cottage on Windsor Estate... the move away from Kensington Palace that started the rumor mill grinding away in the first place. Fortunately for Markle, she has one person who understands the pressure of being in this very particular spotlight; her sister-in-law. And Midddleton has reportedly been lending a quiet hand and a little support as Markle finds her way in her new role.
That's the beauty of a family text chain; you can communicate with each other in a way that feels real but also a little protected. Get to know each other via memes. Stay connected, but also private. In other words, it's specifically perfect for the Fab Four.
Now if only I could sneak my way in on it...
This first-time mom wants to have a home birth, but is she ready? Watch how a doula supports a military mom who's determined to have a home birth in Episode One of Romper's Doula Diaries, Season Two, below. Visit Bustle Digital Group's YouTube page for the next three episodes, launching Mondays in December.