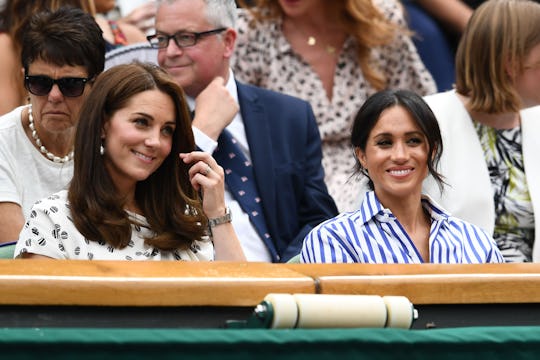 Clive Mason/Getty Images Entertainment/Getty Images
The Amazing Thing Meghan Markle & Kate Middleton's Security Teams Have In Common
As someone who follows the royal family in a totally healthy, normal way, I promise, I've often worried about their devotion to rules and traditions. As cool and fascinating as they may be, it's sort of hard to ignore the fact that they do seem, at times, rather stuck in the past and perhaps a bit antiquated. But it looks like I might have been wrong about the royal family. As it turns out, Meghan Markle and Kate Middleton's security team proves that they, at least, are looking towards the future. And the future is female.
As the Duke and Duchess of Sussex, Prince Harry and Meghan Markle, continue their royal tour in Australia, New Zealand, and the Pacific Islands, a bit of a security scare temporarily marred their trip, as reported by CNN. The newly pregnant duchess was visiting a market on the island of Fiji when she had to cut her solo trip short, according to CNN. It seems there were more people crowding into the market to get a gander at Markle than first expected, and she was rushed out, as the news outlet reported.
The incident made news not just because of the slight whiff of drama, but because of the bodyguard ushering her out: a female protection officer.
Yes, you read that correctly. As Harper's Bazaar reported, Duchess Meghan is being protected by a woman and this makes me so happy I can't stand it. Understandably, Kensington Palace will not release the name of Markle's protection officer for privacy reasons, but the Daily Mail reported she's actually been protecting the Duke and Duchess of Sussex for a few months.
And nobody was shouting it from the rooftops or using this woman's position to point to the fact that Markle is a badass feminist who is changing the royals or what have you. And do you know why? Because this isn't even a big deal at all in the royal family. In fact, it's rather common practice.
As The Daily Express reported, the Duchess of Cambridge has been protected by the same woman since she first became engaged to Prince William in 2010. And when her main security detail needs to take time off? She is reportedly replaced by another woman. The Daily Express also reported that Prince George and Princess Charlotte are protected by a female security officer.
Now before you go thinking it's the younger generation of the royal family that is all about equal opportunity, please note that Middleton's security officer was reportedly hired by Prince Charles, according to Inquistr. Also, check out this photo of Camilla Parker Bowles from 2016, when she hired an all-female security detail for a trip to the United Arab Emirates. And this wasn't just a publicity stunt; according to a report by ELLE, these women are seriously qualified for the job.
I am truly impressed by the royal family. Not because they hired female security officers, but because they didn't make a thing about it. So maybe some of these royal rules aren't that stuck in the past after all...